Friday, December 23, 2016 - 13:37
Police in Melbourne have thwarted a planned Christmas terror attack in Melbourne. The suspected terrorist had planned to use guns, knives and also suicide bombers for the attack on Christmas day in the city.
Police have arrested a Abdullah Chaarani, and have denied bail for the terror suspect. He is expected to be back in court in April.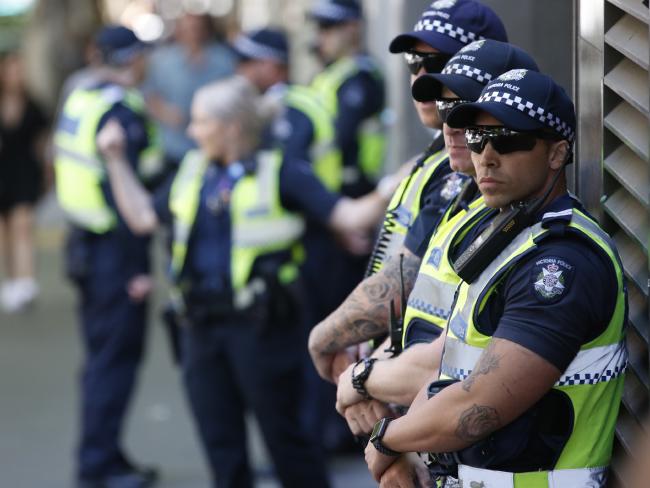 Police stand outside Melbourne magistrate court: Picture: David Caird
The attack was planned to happen on city landmarks including Federation Square and Flinders Street Station. Six men between the ages of 20-25 were arrested and a woman. A 20 year old man and another 26 years old woman have been released without charge.
In a statement released by the Victoria Police Multi-faith Council, and provided by the police, The group said the groups were;
United in our shock and condemnation of the alleged planned terrorist acts in the Melbourne CBD.These alleged acts were not acts of faith, ethnicity or culture," the group said, in a statement provided by Victoria Police.
They were opposed to the principles of all religions. They were alleged acts of criminality that do not reflect the harmonious values we collectively strive to promote.We stand together for cohesion and harmony and are confident that Victoria's multicultural and diverse community will unite in the face of these challenges in a positive and peaceful way.
Anything that disrupts our unity only gives strength to those who try to divide us and as such, acts of racism or victimisation will not be tolerated.
The suspects are reported to be connected to an Islamic terrorist group, ISIS, and will appear in court soon.
According to Prime Minister Malcolm Turnbull;
This is one of the most substantial terrorist plots [to] have been disrupted over the last several years. This news will be of great concern to all Australians. We congregate in public places for Christmas, for New Year's Eve. It is a time of happiness and joy.
These terrorists sought to disrupt it. They have been thwarted.