Monday, August 21, 2017 - 10:39
In the fourth accident involving a US warship in 2017, a US Navy sailor Navy guided-missile destroyer collided with another oil tanker in Singapore in the early hours of Monday.
The USS John S. McCain was making its way to the port visit in Singapore when it collided with the merchant vessel Alnic MC. The accident was first reported at 5:24 am local time. The USS John S. McCain is now reported to be fighting floods and had limited propulsion and electrical power, after the damage to the port-side, the left side of the vessel facing forward,while the other merchant ship sustained to the to a tank near the front of the ship 7m (23ft) above the waterline.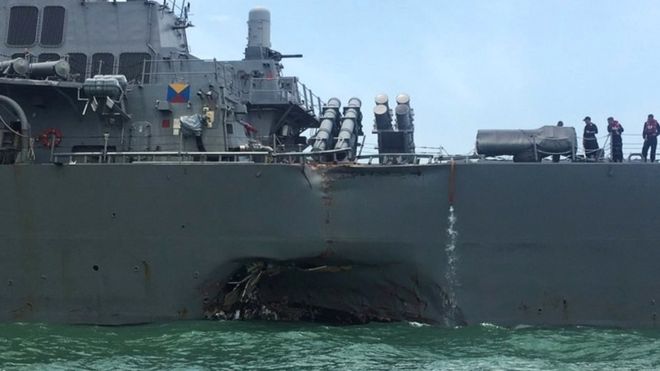 Image Credit: Reuters
Singaporean and Malaysian navies and coast guards are now conducting search and rescue operations.
The US Navy said that four of the injured sailors had non-life threatening injuries and all evacuated to a Singaporean hospital, and the fifth sailor did not require further medical attention.
The spot where the accident happened is the "The Malacca Strait," and according to the World Economic Forum, it is the busiest waterway, and runs  between Indonesia, Malaysia and Singapore.