Tuesday, May 31, 2016 - 23:15
We learn business and entrepreneurship from different people, and in different phase of our lives. That is why the way we look at things might be different, you can be seeing a 9, while the other fellow will see a 6, it's all about where you stand.
What do you tend to gain when you sit down with a local food vendor in Vietnam, trying to get by for the day, well for me, it's all about my thoughts at that point in time, and knowledge gathering, so when i see something that looks like business knowledge to me, i intend to grab it.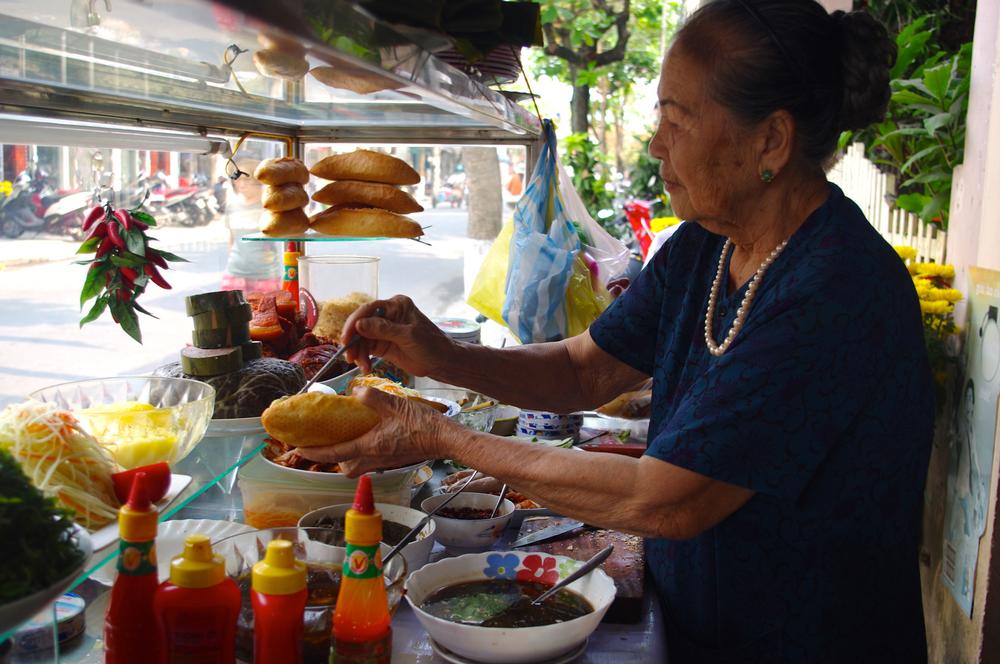 Courtsey of HoiAN food tour
Learn A New Language: A lot of users will go to MBA to learn this act, but it was so funny I grabbed and confirm that learning a new language sometimes might be the key to selling your next gig to the new customer. 
In a country like Vietnam, where the primary language is Vietnamese, you won't expect the old ladies to speak much of a English, but mostly they do, while the students at school are getting scared, the Banh Mi sellers seem to know the basics, and can ask you;
"What you want to buy" Me have Bread and egg, very good" Beef and chicken, me i have, this is 10,000vnd" 
Considering English is a universal language, that's ok, but the one that amazed me was when I was with my favourite Banh Mi seller, trying to get some, a group of South Koreans, am guessing can't speak much of English or Vietnamese, but they were doubting the bread, if it is any good, and were doubting if the old lady can make a custom order. They were asking this within themselves, while the seller was mute.
But when she noticed the group of gents and ladies that was around 8 was going away and not buying the bread, she surprised them with some "yon yon yon" (forgive my ignorance), and they were like "What? you speak our language?"
They were surprised and had to converse more, while they all sat down and had lunch, and I was really amazed to see if I can learn a new language too..
I think I will go for Chinese or Japanese, what do you suggest?
Be Honest:  Looking out my window at the young boy and girl hawking around the street of Saigon, I am looking at 2 laundry shops, one is attached to my apartment, and the other laundry shop is just few metres away.
Again, a new family had rented a new space in the building, and I can hear that Trevor was telling the family not to go to the laundry shop attached to the apartment, and when they asked him why, he said "They will overcharge you when they see you are a foreigner".
The new tenants appreciate Trevor and said they will go to the next shop, which is just a few walking distance.
I remembered moving here 4 months ago, and this was the same thing Ben told me, and it was the same thing I told Noah when he moved in.
That means the laundry shop attached to our house will keep losing customers from our building as far as this keeps going, we have seen her as a cheater and not honest.
Don't be greedy, the guy that walks up to your shop today might be the success you have been waiting for, and might be the very person to drive away 50 customers. None of us ever tried this lady, we just know because someone said she is not honest in business dealings.
The other lady paid nobody, but she gets free advertisement.
Get To Know Your Regular Customers/Clients Protection: It is a good thing when you get to know your clients and can have their back sometimes. Sometimes, they might need you to provide services quickly, especially when they are ordering the same item every time they are in your store.
My Banh Mi seller has known me sometime, that when she sees me coming, she is always welcoming, and will tell everyone that care to listen how cool I am, "Yes, I am cool and i understand things she is saying"
She will then go and repeat my orders she has known I always get. She is happy and all laughing all again when she gets it right, and you can see her shoulder popping to the other Vietnamese, Oh, I know his order, he is my guy.
This will mean nothing to anyone, but to a guy like me, it makes me grin inside and love her person. It is always an ego boost going to eat my banh mi at her shop, because I will be greeted with a whole lot of awesomeness from the Banh Mi seller.
So what happens on the day i forgot my wallet at home? It happens to the best of us, I had concentrated on chatting with the ladies, that i did not pick my wallet, When she made my delicious Banh mi, i realised my wallet is not on me, and I don't know how to tell her in Vietnamese.
While she was all smiling and all, I was hoping I don't ruin my respect. But I never knew while i was doing this, the lady already knew, and there was like 10 people in queue waiting, so she packed my Banh Mi like she used to, smile at me, handed it to me, and when i was about to tell her my life story, she smiled at me and turned back, on a normal day, she would wait while i removed my wallet, but she turned back and protect me from all the embarrassment I could have received that evening. 
That meant a lot to me, and an inspiration for this article you are reading. Know your customers, study them, and do your best when you can to keep them.
Be Friendly/Calling: When I moved away from my Banh Mi seller, I had to choose a new banh Mi seller in a new street. I could not go back to my favourite lady because of distance. I do order Banh Mi sometimes from my favourite seller when we were living close to each other, but that stopped when I moved away.
One afternoon, my Banh Mi seller called, at first, it was weird to me, why would she call me? Was that a mistake? I picked up, and I couldn't process all what she was saying, she was speaking Vietenglish, and my brain was already spinning, it was a hot afternoon.
So i gave the phone to the next lady to speak Vietnamese to her. When she dropped the call,she told me the lady told her I used to come to her shop to buy bread or order, now she had not seen me in the area, and would like to know if am fine.
I was surprised, a Banh Mi seller? really. I was laughing and at the same time thinking. I told her why, and that I moved, bla bla bla, and she told me friend, if i can buy 3-4 banh mi at once, she would be happy to do free delivery. That got my attention, and to return the love, I reconnected to my old lady again, with the delicious banh mi, and got free delivery.
She makes money again from me, she is happy, and i am happy.
Give Incentives: We all want to make money, but what about keeping clients? This is done to me twice now. From time to time, i get free bread from my Banh Mi seller, even though I heard the profit is low, she still have the joy of giving me one extra bread anytime she feels like, this makes me a loyal customer, and I love her for that.
Also, I have chosen a good hotel around town when I travel, and it is good to see that they are always happy when they see me coming down from the taxi.
My hotel last deed got me. This people knew when am in town, I love to stay at the room close to the window to see the street level and bike honking, so the last time I was here, i noticed someone was occupying my best suite. That was fine, I can stay anywhere. 
But the manager when he sees me, ask me to wait, he went upstairs and find a much bigger room, maybe more expensive than my budget, but they let me have it for my exact budget. He just wanted me to have the view I always loved when am in town, sometimes I doubt if i love the view, but since they see it as a reason for me coming back, they offer it anyway.
This same people, have asked that i pay 12usd for a 15/16 dollar room, and that applies everytime am there. No need of ID card or promo paper to show. I am sure they are not using some company policies now, all they wanted is for the short big man to be satisfied.
Sometimes, if my flight will be around 3pm, I will speak to the receptionist if i could stay 1 hr after their checkout time, and trust me, I always get it. A new staff have also been informed of my loyalty, and the last time i requested for 1 hr more, she called the manager, and even on the phone, i still get my 1hr. sweet.
How Do I Apply These Business Lessons
Personally, I have applied all these rules to my line of business, and I must tell you now, I have more loyal customers, and more customers means more profit, right?
So check how these rules can apply to your everyday life, and when you see a Banh mi seller in the street of Saigon, remember to say "Hi"