Saturday, December 20, 2014 - 06:50
 Traveling for 18hours now, the next plane will be heading to Noi Bai International airport, Ha Noi and all I want to do is get to my hotel room, take a shower and sleep.
With head bowed down, a soft spoken lady came up to me and said, Sir, would you please put on the seat belt. This was the first time I raised my head since I got into Vietnam airlines and all I could see is the air hostess in a tight-fitting silk tunic worn over pantaloons.
I had to check the magazine on the flight to know more about this lovely fitted and attractive gown. Which  I later got to know is Ao Dai. Which I do pronounce as (ow zai).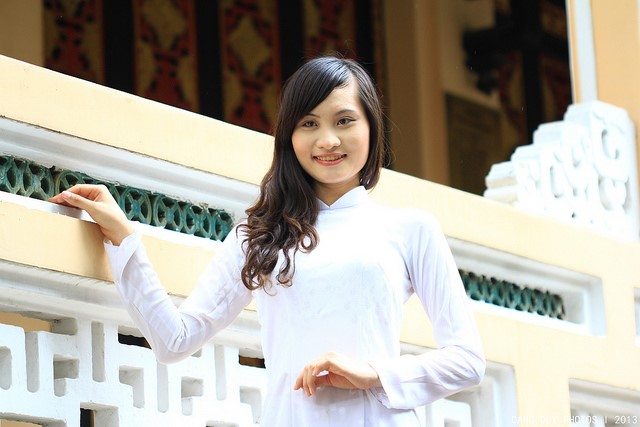 A Vietnamese lady with white white Ao Dai attire. Photo by dang dang
The ao dai is a traditional Vietnamese cloth and it also means "long dress". When I write traditional in Vietnamese context, you should take note of it. The ao dai is also like a sacred cloth. With my interaction with Vietnamese friends, they do respect the ao dai and when a lady is putting on the ao dai, they are expecting her to be on her best behaviour.
Ao dai comes in different colors, the colour is an indicative of the age of the person wearing it.
White colour ao dai signifies purity and it's always worn by young girls, fully lined beauty. Unmarried girls wear different ao dai with different colours, pattern or design. Only married women wear strong,rich colours over white on black panties.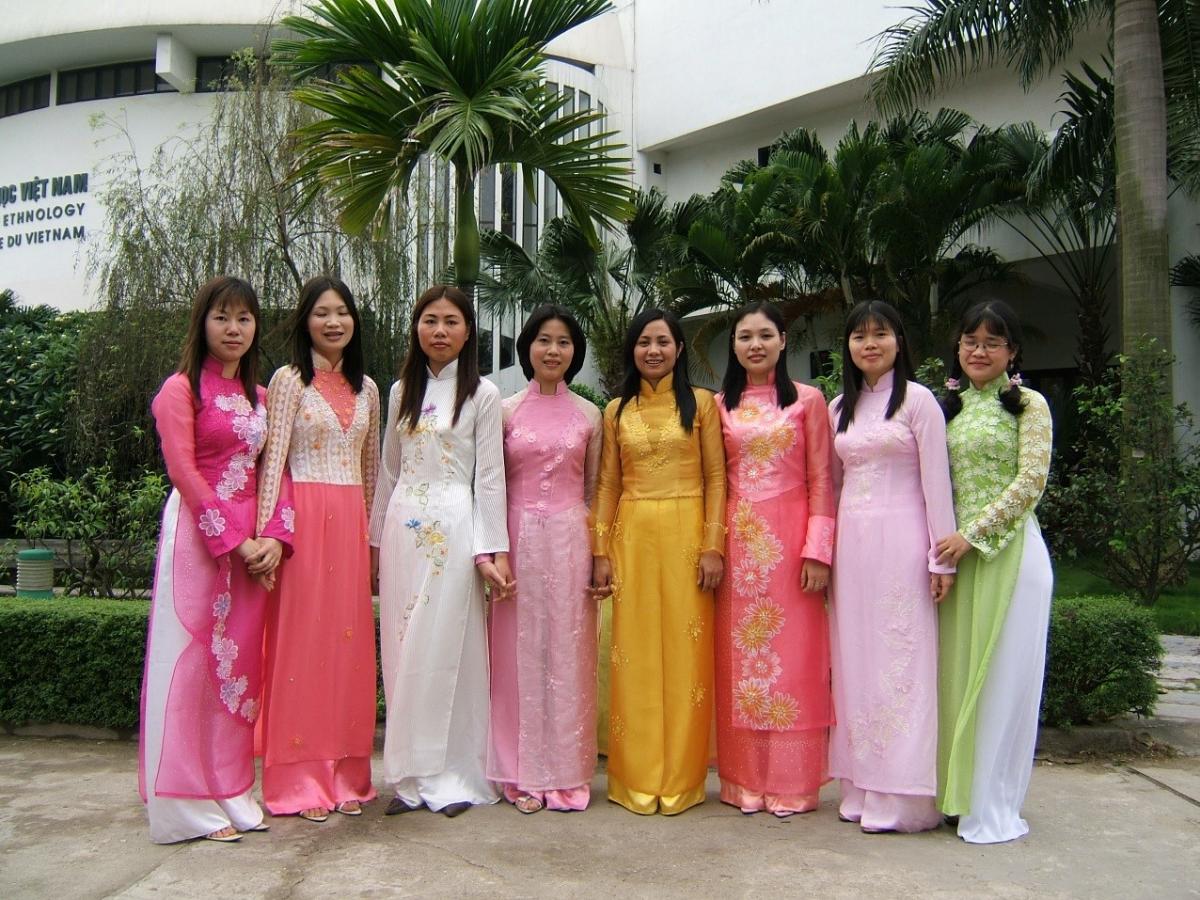 Married/Unmarried women with rich colour Ao dai attire
The other name for the ao dai is "cover everything, but hide nothing". The ao dai will perfectly fit into a Vietnamese woman and accentuates their lithe long body.
The ao dai costume is dated back to the year 1744 when Lord Vu Vuong of the Nguyen dynasty decreed both men and women wear and an ensemble of trousers and a gown to button down the front.
During the 1930s, Nguyễn Cát Tường also called Lemur, Hanoi artist premiered the ao dai style inspired by Paris fashions in association with the Hanoi University. The design summary:
"The light-colored, close-fitting tunics featured longer panels, puffy sleeves, asymmetrical lace collars, buttoned cuffs, scalloped hems, and darts at the waist and chest, thus requiring a brassiere or corset. Lemur's Europeanized flared pants were white with snugly tailored hips. Criticized by conservatives as scandalous, Lemur's designs nonetheless marked the emergence of a contemporary ao dai blending traditional Vietnamese elements with Western tailoring and bodily aesthetics, much like the Chinese cheongsam of the same period." Fashion History
The 1980s and 1990s seems the year the ao dai starting making a new growth as one of the popular costumes in Vietnam. In 1989, the first Ms ao dai contest, organized by the women's newspaper in Ho Chi Minh City took place and only sixteen people participated. Six years later the Ms ao Dai won the best prize for national costume at Tokyo's Miss International pageant.
The Miss ao dai now spread across different country in the world and tourists cannot help, not getting one for their loved one when they go back to their family.
Ao Dai is is made to perfectly fit into the shape of anyone that will wear the cloth to give it a lovely look. The body hugging top is worn over a wide trouser, often long that is brush the floor. There is a split that extends above the waist and make it comfortable to move
Also the ao dai is also available for men, but it is not as popular as the ao dai for ladies. The ao dai is mostly worn during funeral and occasion like marriages. 
                                Ex-USA President, George Bush and President Putin of Russia with the Ao Dai for men
Traditionally, it has become the dress for formal occasions. Also it is the attire for girls in high school. Also place ladies working in offices or hotels do wear the ao dai. And just like I pointed out, the air hostess at the Vietnam government airline, Vietnam airlines do wear the ao dai since it is an international airline unlike its competitors that flies around Viet Nam. This will give visitors like me, the real beauty of Vietnam at a glance. It is a standard attire in Viet Nam.
For visitors or Tourist, getting the ao dai is easy as most local tailors will design to fit a nice and fine-looking ao dai at a very affordable price.To the lot of vietnamese people, the ao dai is synonymous with beauty and grace . It remains the national dress for men and women in Vietnam
Doy News