Saturday, February 28, 2015 - 06:51
The Nigerian election draws near, and Nigerian citizens and the world at large are watching who will be the country's next ruling president. It is obvious that even as Nigeria Independent electoral commission different names of candidates for the presidential election, Nigerians are more interested between two of the candidates. The incumbent president, Doctor Goodluck Jonathan and the former military ruler of Nigeria, General Muhammadu Buhari.
President Goodluck Jonathan, the people democratic party candidate had adopted the slogan "Transformation" while the APC candidate, General Muhammadu Buhari had used the slogan "Change". The Nigerian electorate on the street and on the internet had shown strong support for their different candidates, different propaganda and manifesto showed up to the face of Nigerians. As the PDP spokesperson once said, if you live your life on the internet, am sure you will agree with me that the APC presidential candidate had won the election. I must give it to the social media campaign manager of APC. The PDP social media manager has been doing a terrible job and not regulating what comes out from the inner circle and this is damaging the credibility of Goodluck Jonathan.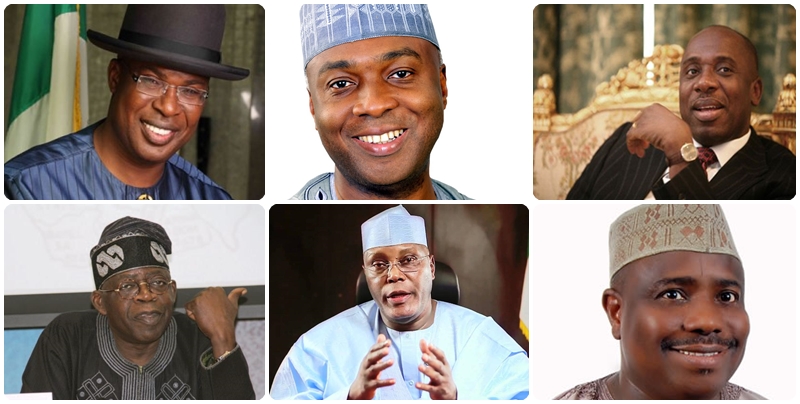 Some of the terrible jobs on the PDP is from Governor Fayose of Ekiti State, the man is a pain to PDP, and also the tearing of membership cards of different top party members like Olusegun Obasanjo. It is like a voodoo on PDP, because everything comes on the internet, the minute it happened.The spokesperson or Aso rock press secretary is doing a bad job to debunk issues like this.
Now, after a whole lot of election brouhaha, let us come back to face reality. One of the strong points the All progressive Congress(APC) has been using against the people democratic party(PDP) is that the ruling party 16 years of ruling Nigeria is covered with corruption, impunity, insurgency and injustice.
We as an different individual have dealt with the issue of PDP/APC based on how level of exposure, religion or ethnicity.
Now let us back up for 20minutes and allow me to take you from where it all started. I want you readers to level with me here as an observer only, not as a PDP/APC fanatics. Forget whether you are a Muslim or Christian, forget whether you are Yoruba, Hausa or Ibo person. I want you to be like me here "Undecided electorate"
The APC agents of change are  :
Governor Rotimi Amaechi : This man is also the APC spokesperson and campaign manager. You can check it all on the internet. The Rivers state governor who had claimed that the PDP had been a party ruling Nigeria and destroying for 16 years. The same man was a PDP member for 7 years. He was also the chairman of the governor's forum in Nigeria before their childish separation after the governor forum election. 
After the fallout of Rotimi and President Goodluck Jonathan, the man came up on podium and is been shouting "Change" . That is ok, it is the civic right for any Nigerian to choose a party that favours them, but i want Rotimi or the Rivers state electorate to come up with 5 special things that had changed in River state when he was governor. Rotimi Amaechi was part of the party that ruled us for 16 years. He was with them and ruled Rivers state for 7 years under PDP. 
So Amaechi knows Nigerian electorates needs change after 7 years he was with PDP? Remember the spat between Patience Jonatan and Amaechi is the reason he dropped PDP.
Atiku Abubakar : This is the man that was Nigeria vice-president for 8 years with General Olusegun Obasanjo. What happened durIng those times? Wait??? Nothing. So when you say that PDP ruled us for 16 years with nothing to show for it, always remember Atiku had 8 years from those 16 years. Can we trust the man to still deliver.
George Akume : Governor of Benue state for 8 years under PDP.
Bukola Saraki : This family is a political family in Kwara state, their family had ruled different part of Kwara and also as governor. He is a staunch member of APC now and will shout Nigeria needs Change, yadayadayada. But the same Bukola Saraki was a 8 year governor under People Democratic Party(PDP). Also 2 year senator under PDP
 In April 2012 the police sent a letter to Saraki asking him to assist in their investigation of a case of "conspiracy, forgery and stealing N21,000,000,000 belonging to Joy Petroleum Ltd." A Federal High Court in Abuja heard a request by Saraki for an injunction preventing the police from arresting him "to protect his dignity and prevent further harassment".[5] At the hearing the counsel for the police alleged that Saraki had influenced the purchase of stocks by the Ministry of Finance of Kwara State in companies that included Joy Petroleum, of which Saraki was the promoter. His wife was linked to the transaction as was Abdulfatah Ahmed, then Commissioner of Finance and now governor of the state. The High Court adjourned the hearing until 22 May 2011 --Wikipedia
I will save you the long story, he was vindicated at the end of the day, most of us know how the Nigeria politics work, be loyal to your master, you will always win. You think it is a lie, ask Stella Oduah,Diezani Alison-Madueke, Diepreye Alamieyeseigha. If you are smart and not loyal, you will get your passport seized and might be under heavy security surveillance, you think am kidding, ask former CBN governor and now Emir of Kano, Lamido Sanusi.
Timipre Sylva: This was the former governor of Bayelsa, and ruled the state for about 4 years. He recently decamped to APC and has been shouting "Change". The same man had been invited by the Nigeria anti-corruption agency, the EFCC (Economic and crime commission) for different fraudulent transaction charges which also includes money laundering. He is also involved in different eye-popping real estate transaction.
When the EFCC visited his home, according to Premium time Nigeria, he was hiding in his upper chamber while his family told the men of the EFCC he was out. This is the same man that had found a new abode under APC and now is shouting "Change". What type of change will he bring to the table, how to steal money from the Nigerian citizen and lied that you are sick when invited by EFCC?
Bola Ahmed Tinubu : The jagaban himself, the man that always have his way, no matter what EFCC tries, the man Olusegun Obasanjo could not beat, the smartest politician in Nigeria. You might wonder while i said those things, the truth is i admire this man.  He is a master planner, a fraud that beats other fraudsters. He is always a step ahead of other politicians. Born and raised in Lagos, you can't tell me about Tinubu...Never.
The same man that told Lagos pensioners that they are shameless for protesting about their pensions. " Don't you have children you trained while working all your lives " he said. The man that built 2 Millenium school in Lagos and claimed he built the same millenium schools in the 20 local government of the state. I never saw any in my local government. The man that went to a small local government and promised them an airport...ahahahahaha.... They only have air at the moment, No Port. When he came back for re-election, he throwed into the air 20 Naira note and a Wasiu Ayinde CD. The man that created several  proxy companies to launder Lagos state money. The man that ruled Lagos state with no federal government assistant for roughly years and would not pay workers for more than 6 months to a year. To be able to borrow money he sacked the vice-governor and brought in an experienced banker as deputy governor, Femi Pedro.  Few years to election, the same deputy wanted to grow wings and fly, he sacked him again. The only governor of Lagos state that had more than 4 deputy governors during his time in office. 
When the Federal government under Musa Yar'adua returned the money the federal government never gave them for 6 months to 1 year, Bola Tinubu and the Lagos cabal shared it at Lagos beach front under heavy security... People at the beach reported that, he said " Owo yen da" (Where is the money) and they responded they paid his share into his account, the responded "E da obe dey e toku (share the rest of the money with knife). Lagos state Money...
This same man is the man that is the party chairman and founder of APC, the party we wanted to  "Change" Nigeria...Now that is a long shot, please go figure.
Other Change Agents Of APC :
Audu Ogbe, 2 years National Chairman of the PDP. 
 Aminu Masari , 4 years as the Speaker, House of Representatives under PDP.
Chris Ngige, 3 years Governor under PDP.
 Rabiu Kwankwaso, 7 years Governor, 3 years Defense minister under PDP
El Rufai, 4 years FCT Minister, 2 years BPE Chairman under PDP.
Aminu Tambuwal,  3years as Speaker House of Reps under PDP.
Read up those other people i had mentioned and see who are the "CHANGE" we all need. Are these people going to change anything aside from the fact that they were disgruntled member of the same party that we all agreed destroyed the country for 16 years. And now they find  new abode and are shouting "Change".
I have nothing against the person of Buhari/Osinbajo. They probably meant well for the average Nigerians, the question here is, who are their cohorts? If they are the same APC, I can tell you that the leadership of Nigeria ia just like a merry-go-round. It revolves around the same people that destroyed us 16 years ago too. No Change from anybody, just another way of robbing our democracy. Fela said it is Political Armed-Robbery.
Oh, forget that Olusegun Obasanjo drama too. You think he is a saint because he tore his card and wrote a book. That same man was the Nigerian president for a solid 8 years, you remember Haliburton scam, Bola Ige death, seizure of Lagos state funds and wrong use of the EFCC, Dr Mike Adenuga also reported how he paid the ex-president more than 250million for his library, 20 billion naira twice for his telecommunication company. 
Because anybody joined APC is not an automatic ticket for sainthood, don't be cajoled into that. Vote wisely, remember we have other presidential candidate. 
I hope you understand my point of this article. Be open-minded about it and write your comment. We hope the Nigerian electorate gets someone that will turn their country around in the next 4 years.
Doy News