Sunday, May 18, 2014 - 00:24
It was a tense situation at Wembley this evening as Arsenal team triumph to win the FA cup final. The match that was not what Arsenal fans might have expected after Hull city James Chester and Curtis Davies scored one goal each in just 8 minutes to the tournament.
In the 17th minutes of the game, Santi Carzola scored a stunning free kick, beating the wall of defense and hand of Hull city goal keeper, Allan McGregor. The Arsenal team was not able to pull in another goal until the 70th minute as  Laurent Koscielny shoot from a close range to beat keeper Allan McGregor after the ball might have passed overhead the Hull city defense from a corner kick. The game was paused as Koscielny couldn't continue due to an injury he picked up from scoring that goal.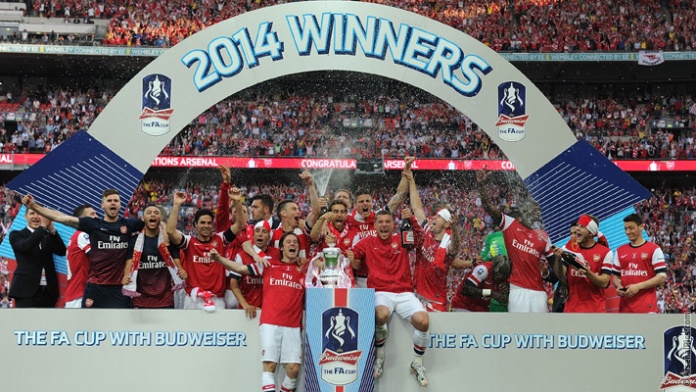 Image Credit: Arsenal football website
The 90mins match ended, and both side with a 2-2 draw had to play the extra time.  In the 108th minute, we saw Aaron Ramsey score another goal from a nice assist from Olivier Giroud.
This is the first cup win for Arsenal since nine years, it also means that Arsenal team like their English league rival, Manchester United, have won the FA Cup for the 11th time.
Goal Summary
4'0 - 1James Chester
9'0 - 2Curtis Davies
17'Santi Cazorla        1 - 2
71'Laurent Koscielny   2 - 2
109' Aaron Ramsey     3 - 2
Is this a turn-around for the gunners? Will Arsenal turn in more trophies next season? This and more questions we will ask as we await the next season games. For now, we want you to know Arsenal is the winner of the FA Cup 2014.