Sunday, May 18, 2014 - 11:19
Atletico Madrid is the first team to break the break what we have known the La liga to be, La liga as defined by a good friend of mine as a league for Barcelona and Real Madrid team. All those changed last night as Atletico Madrid changed the norms after playing a draw match with the league past champion Barcelona. 
The last time another Spanish team aside from Barcelona and Real Madrid won the La liga was 2003-2004, the team that won back then was Valencia under the Rafael Benitez management. This is a fresh air for Spanish football.
According to a Doy News reader who talked to us via skype., he said.
This is a change in Spanish League football and am sure it's going to be a lot of parties this weekend for the fans of Atletico Madrid.
It was a standing ovation at the Camp Nou as both Barcelona fans and Atletico Madrid fans applaud the players.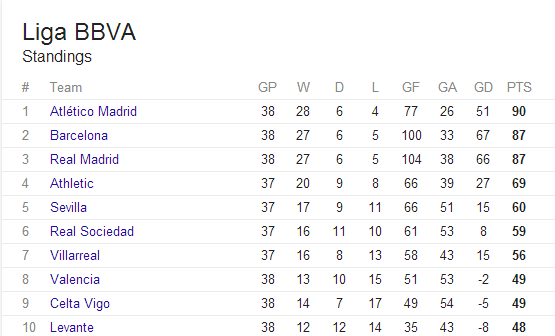 Image Credit : Google search result as displayed on 18/may/2014
At Doy News, we say congratulations to the Atletico Madrid team.