Saturday, September 30, 2017 - 17:13
A Chinese journalist have been arrested for "rumour-mongering" after he wrote an article about 32 missing students in the central city of Wuhan in recent years.
The 39 year old journalist identified as Wang was detained on suspicion of "faking the facts and spreading rumors" in an article titled "32 students Mysteriously Disappear in Wuhan," and also interviewed family members. The Wuhan police post has said the story is inaccurate, and the post is now deleted after one of the parents of the missing Wuhan student Lin Feiyang requested it to be removed.
Dozens of children have disappeared in Wuhan between 2013 and 2013, according to parents of missing relatives. Most of the missing are young boys around 20 years of age, and with excellent academic records and around 1.8m tall, and words going round is that the boys might have been captured for specific purposes.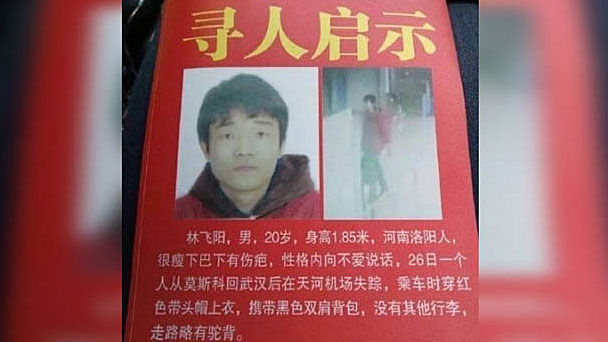 Poster showing missing person, Lei Feiyang
Is The Journalist Article A Fake News Story?
Lin Feiyang parents later confirmed that Wang story was right. Lin parent told  RFA that;
When our son had just gone missing, he interviewed me, and the report came out around the same time," Lin Feiyang's father Lin Shaoqing told RFA on Friday. "Everything [in the article] was factually correct.
Lin's parent said, according to the camera footage, their son landed on a China Southern flight from Moscow to Wuhan in November 2015, and investigators lost track of him after he entered a blind spot not covered by city cameras.
Lin's parent added;
They didn't bother looking after that, and now the recordings no longer exist, because it was too long ago. The police claim that there wasn't enough evidence that harm had come to him.
Another missing student was Xiao Pengfei. Before the disappearance, Xiao was a prize-winning scholarship student of bio-engineering at the Wuhan University of Science and Technology. He had left the school through the college campus by the back gate on Dec. 31, 2014, and took a 10 minute walk to park on the river embankment and since then have not been found.
Xiao's parent while speaking to RFA said;
We were able to trace my son leaving the campus and spending some time by the riverside, but I couldn't see anything, because it was dark. Some of the parents of the missing students are beginning to think that their organs were taken and their bodies disposed of later. They all went missing in the same area, on the edge of the Yangtze River bridge.
Shuai Zongbin is also missing. Before he went missing, he was a fourth-year student at the Wuhan University of Technology. Shuai Jinfu, father of Zongbin said;
The police are saying that this is rumor-mongering now, but it isn't. There are 17 or 18 families in our group chat for people with missing kids [in Wuhan]. We went to the police at the time, wanting them to search phone records or [social media], but they refused to accept the case, or they couldn't find him.
The whole group went to petition at the Hubei provincial government in March, and we were received by a couple of department heads, but nothing has happened since.
Police have now warned the families of the missing students not to speak with foreign media again.