Wednesday, March 8, 2017 - 08:13
Apostle Johnson Suleiman is in the spotlight again after his recent sex scandal with a Canadian-based lover got exposed online. The general overseer of the Auchi-based Omega Fire Ministries, is currently in the sex scandal after he was accused of impregnating the lady, dumped her and using the Nigeria police to silence her.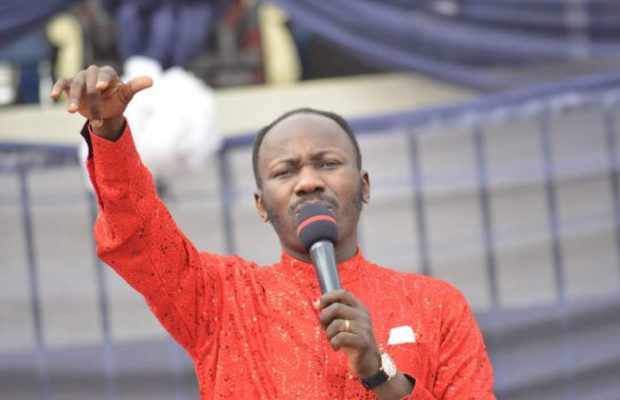 Apostle Suleiman in one of his Sunday sessions, Ms Stephanie said he would ask for nude pictures before going on pulpit every Sunday
The woman in the middle of the controversy is a Canadian-Nigerian musician, Stephanie Otobo, and goes by the stage name of Kimora. 
The Full Gist
The duo met in September 2016, when Stephanie visited Nigeria, and when they two met, they sparked off a relationship, with Suleiman assuring Stephanie that he had part ways with his wife, as she could not give him a male child.
Their relationship grew stronger, and Suleiman proposed to Stephanie, which she accepted, and she introduced the man of God to her family. On the introduction of both family, the man of God took food and drinks to the family of Stephanie, according to marriage rite of her tradition, and expressed his desire to marry their daughter.
Suleiman then asked Stephanie to move back to Nigeria, with the promise of buying her a house and will afford her Canadian standard of living, Stephanie obliged, abandoned her music career and move back to Nigeria.
Stephanie became a prominent member of Pastor Suleiman church, and also followed him around on his different world mission across the world, and help with sermon and music selections. 
He would send her money on regular basis to meet her upkeep.
Suleiman Alter Ego, Plate Licker
Mr Suleiman was said to be a different man behind closed door with Ms Otobo, according to Stephanie, Suleiman would go around kissing her whole body from head to toe.
Stephanie also said their was a time Suleiman asked that Stephanie invite her friend for group sex, but she turned down his request has the two are set to get married, and should not get involved in such act.
He would also asked for nude pictures of Ms Stephanie before leading church service on Sunday.
Pregnancy Gone South
While Suleiman has always asked for Stephanie to have a baby, she finally delivered the good news to him that she is pregnant with a baby, but instead of Suleiman to receive the news with joy amidst dance, he was angry, and then remembered he was a pastor, and the news would cause a scandal that could affect his reputation in the Christian community.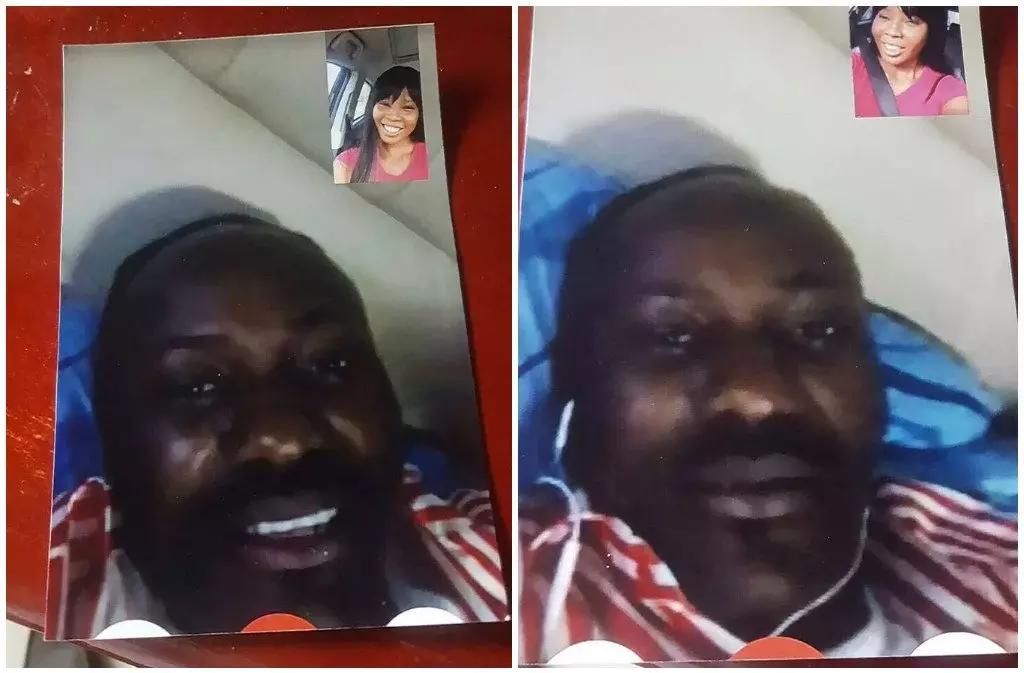 Apostle Suleiman in a facetime conversation with Ms Stephanie Otobo, the third image shows Ms Otobo displaying her frontal area to Suleiman, but not displayed because of its explicit content
He visited Stephanie Otobo, and instead gave her a concotion to remove the pregnancy, the concotion caused her heavy bleeding, while Suleiman abandoned her, and also called off the marriage proposal.
Miss Otobo then went to Warri, and met with another pastor, but instead of the pastor to help her with the situation, the pastor turned into criminal himself, and recorded the story, only to use it in extorting money from Suleiman.
Disappointed Miss Otobo returned to Canada to start all over again, only for Apostle Suleiman to call her, and apologise for his misdeed, and beg for her to return to Nigeria again, and they can start all over, while Suleiman was performing the act of repentance, he was also working on a scheme that will put Stephanie in trouble.
He sent some money to her account in Nigeria, and while she tried removing the money with her ATM card, she could not receive the money, and she decided to ask for help from the issuing bank about her ATM withdrawal problem, that was when armed police officers swooped on her and arrested Stephanie.
Lawsuit
The recent scandal has painted Suleiman in a different light, with people surprised about the recent news, amidst chat, images that have surfaced the internet. Also, the wife of Suleiman came to his defence that Suleiman is a good man, and clearly the Nigerian govenment is trying to tarnish his image after he asked that Christians should stand up for themselves when Fulani herdsmen killing Christians come around.
Ms Otobo is now demanding 500 Million Naira as damages for not honouring his marriage proposal's commitment, and he also want that Suleiman not only stop harassing her, but also threatening her life.
Stephanie lawyer have given 7-days ultimatum for Suleiman to comply to their demands, or face trial.