Tuesday, November 29, 2016 - 17:41
President-elect, Donald Trump, since his victory has been busy with picking people that will work with him during his administration, and also have been busy with his Twitter account. The recent rant of Donald Trump was against CNN after they reported about his tweet on the recent election.
Donald Trump recently claimed that he would have won the popular votes, just as he won the electoral college if not for massive "voters fraud" that happened in some states. The President-elect then went further to retweet different tweets by his supporters who supported his motion of voter fraud.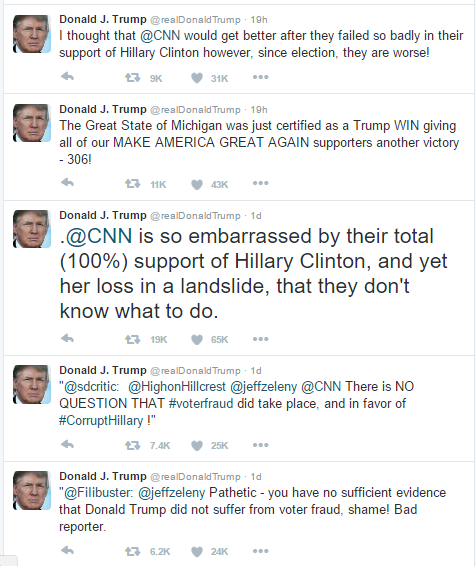 CNN called the allegations of the president-elect into questions, and dismissed his allegations of voter fraud in the just concluded election as 'blatant and baseless'.
Trump after that targeted CNN Senior Washington Correspondent, Jeff Zeleny, retweeting a tweet that says "just another generic CNN part time wannabe journalist "
Donald Trump has been furious after Green party candidate, Jill Stein said that a recount should be done in some of the swing states where she had lost the election. She had submitted requests for a recount to Wisconsin, even though she only had 1% vote,a move that was later supported by the Hillary Clinton camp.
Trump has also said that voter fraud did occur in Virginia, California and New Hampshire, but there has been no indication of the fraud or evidence for the Donald Trump allegation.
 Jeff Zeleny, who seems unfazed with Donald's accusation replied with;