Wednesday, May 11, 2016 - 16:16
One of Brazil superstar former soccer player, Rivaldo is sending out a warning to people travelling to watch the Olympics set to start in 3-months not to visit the country for the Olympics. TheOlympics is set to start in 3-months in Rio de Janeiro, and Rivaldo believes that the security on ground now is not good to protect international visitor.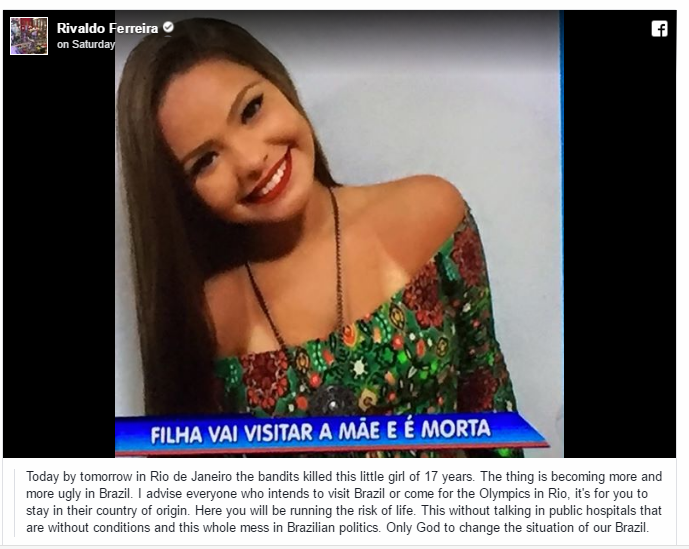 The message was posted on Rivaldo instagram account after a 17-year old was killed in a robbery attempt. He wrote; 
Today by tomorrow in Rio de Janeiro the bandits killed this little girl of 17 years. The thing is becoming more and more ugly in Brazil. I advise everyone who intends to visit Brazil or come for the Olympics in Rio, it's for you to stay in their country of origin. Here you will be running the risk of life. This without talking in public hospitals that are without conditions and this whole mess in Brazilian politics. Only God to change the situation of our Brazil.
Responding to the Rivaldo allegation, Rio de Janeiro Municipal Tourism Secretary Antonio Pedro Viegas said;
People already know our problems, but they will be surprised by Rio's beauty and the warmth of its people. We are waiting for everyone to come so we can showcase our city.
A Doy News reporter said Violence is a big issue in Brazil, as underage are seen with guns driving on Brazilian roads with loud musics.
Also Pregnant women have been warned about going to Brazil as the coastal city of Recife is considered ground zero for the deadly Zika virus.