Saturday, October 17, 2015 - 07:30
Former governor of Akwa-Ibom and senate minority leader, Godswill Akpabio have been arrested on Friday by the Economic and financial crime commission. Akpabio arrived at the EFCC office at 5:20pm on Friday in the company of a senior advocate of Nigeria, Ricky Tarfa.
The EFCC had been investigating the administration of the former governor after an allegation of  N108.1billion of Akwa-Ibom funds  squandered by the governor during his administration. The scandalous spending had angered some circle in Akwa-Ibom and different Akwa-Ibom indigenes had sent petitions to the commission to investigate the former governor, and also some letters had been written to Muhammadu Buhari too.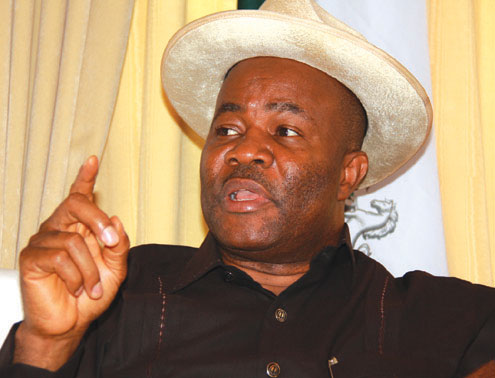 An Abuja-based lawyer,  Leo Ekpenyong, had written a letter addressed to President Buhari on June 8, calling for the president to probe the looting, and also call on EFCC to start an investigation of the looting, and he was invited by the EFCC to adopt his petition on June 17 and clarify of all allegations he had made in his petitions.
Godswill Akpabio, a close ally of the former governor is also known for spending Akwa-Ibom funds carelessly, and it was alleged that between the January and December 2014, he had colluded with two of his top aides to cart away a sum of N108.1 billion from the state treasury.
Mr. Leo Ekpenyong had accused the former governor of conniving with former Government House Permanent Secretary, Etekamba Umoren, and the former Accountant General of the state, Udo Isobara to loot the state funds. In the petition, he wrote;
Between January –December 2014, it is on record that the trio of Godswill Akpabio, Mr. Etekamba Umoren and Mr. Udo Isobara, made illegal but substantial withdrawals of cash from a designated state government-owned account with Zenith Bank with account number: 1010375881 amounting to N22.1 billion.
 It is worthy of note that reasons for such ungodly cash withdrawals against financial regulations and due process laws range between sundry use and unjustifiable expenditures by Godswill Akpabio and his numerous surrogates and proxies.

 For example, a whopping N18 billion was withdrawn fraudulently from the state FAAC account with the United Bank for Africa in trenches of N10 million and above by Mr. Isobara in a surreptitious manner to conceal their dishonest intention.

For assisting the governor to steal the funds, Etekamba Umoren was made the chief of staff, and now also the secretary to the state government under Udom Emmanuel's administration.Also Akpabio was alleged to have spent N50 Billion during the last general election to see to his preferred candidate winning the governorship election to cover up the tracks.
Some assets of Godwill Akpabio as stated by the legal practitioner includes;
Multi-billion naira mansion at Plot 5 Okogosi Spring Close, off Katsina-Ala Crescent, Maitama-Abuja, a multi-billion naira mansionette at Plot 28 Colorado Close, Maitama, Abuja and another multi-billion naira mansion at 22 Probyn Road, Ikoyi, Lagos.

Others include a multi-billion naira mansionette at Plot 23 Olusegun Aina Street, Parkview, Lagos and a multi-billion naira 25 storey building at Akin Adesola Street, Victoria Island, Lagos.