Friday, January 19, 2018 - 20:10
The peace arrangement between the Fulani herdsmen and its host communities by the government of Ekiti state did not bear much fruit after a pregnant Tiv woman was killed 24 hrs after the meeting. 
The woman was reported to be from Benue state, and was shot dead at a farm settlement at Orin community in Ido/Osi Local Government Area of Ekiti State. Rumours going around said that the woman was killed by the Fulanis to retaliate the death of a Fulani man killed by the Tivs in OKe Ako, Ekiti.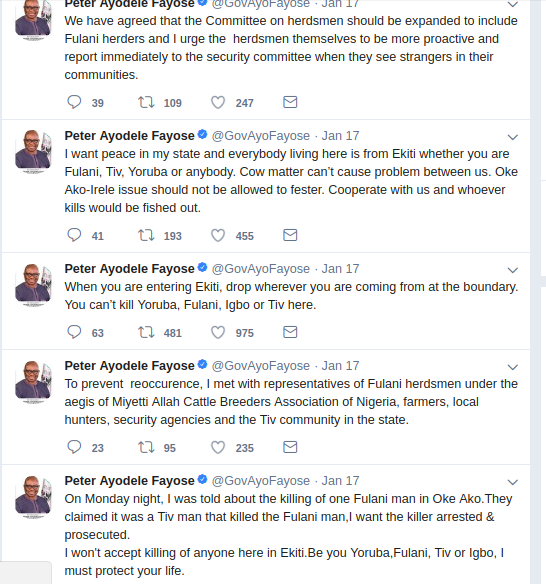 There has been great rivalry between the Tivs from Benue state staying in Ekiti State and the Fulani community, and the governor Ayodele Fayose of Ekiti state warned both parties to have patience, and not to go around with a reprisal attacks as it will only escalate the situation.
The governor tweeted after the killing;
On Monday night, I was told about the killing of one Fulani man in Oke Ako.They claimed it was a Tiv man that killed the Fulani man,I want the killer arrested & prosecuted. I won't accept killing of anyone here in Ekiti.Be you Yoruba,Fulani, Tiv or Igbo, I must protect your life.