Tuesday, November 14, 2017 - 07:04
The investigation into Trump-Russia collusion took another dimension today after a new report that shows different messages that was exchanged with the US president eldest son and campaign surrogate, Donald Trump Jr.
In the first message sent to Trump Jr, a Wikileaks twitter account on the 20th of September 2016 wrote ; A PAC run anti-Trump site putintrump.org is about to launch. The PAC is a recycled pro-Iraq war PAC. We have guessed the password. It is 'putintrump.  See 'About' for who is behind it. Any comments. 
12 hours later- on the 21st of September 2016, Donald Trump Jr. responded; Off the record I don't know who that is, but I'll ask around,Thanks.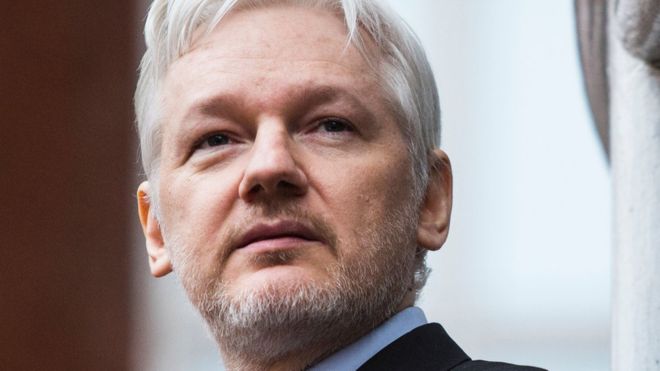 Putintrump.org is now a joint project with Mother Jones, but was founded by Rob Glaser, which according, to the About Us page was a tech entrepreneur and Microsoft early employee.
The messages have now been turned over to congressional investigators by Trump Jr's  lawyers, as messages showed that both Wikileaks and Trump Jr. continued their message exchanges until at least July 2017. Wikileaks then made very bold requests and asked for the then candidate Donald Trump Tax return which he had always refused to share with the American public during the campaign, and also Wikileaks asked that when elected, Donald Trump should put a request to the Australian that will allow the head of Wikileaks, Julian Assange to be made ambassador of Australia to the United States. The Wikileaks Twitter account, then asked that the candidate Trump reject the election results if he did not win, and claimed it was rigged.
Speaking on the current report of the document, Alan Futerfas, an attorney for Donald Trump Jr. said;
Putting aside the question as to why or by whom such documents, provided to Congress under promises of confidentiality, have been selectively leaked, we can say with confidence that we have no concerns about these documents and any questions raised about them have been easily answered in the appropriate forum.
The new leak is part of the hearing into Russia meddling into the 2016 US Presidential election by US Congress. The American Intelligence community believes that the Kremlin had helped the then candidate Trump to win the election by using different stories to bring down his rival, Hillary Clinton. 
On October 7, after Washington Post released the Access Hollywood tape, where Trump bragged about grabbing women by their privates, Wikileaks announced that hackers had hacked the email of Clinton's campaign manager, John Podesta.
In July 2016, just before the Democratic National Convention, eve of when Clinton was supposed to receive her party's nomination, Wikileaks released several emails from the DNC servers that show officials of the DNC favouring Clinton over his then opponent, Bernie Sanders.
On Oct.3 2016, Wikileaks asked that Donald Trump Jr. campaign to try and push a message about a quote made by Hillary to "just drone" Wikileaks founder, Jullian Assange.
"Already did that earlier today", and in an hour and half later send another message writing, "It's amazing what she can get away with." 
Two minutes later, Trump Jr. wrote "What's behind this Wednesday leak I keep reading about?" Wikileaks did not respond to the message, and on October 12th, 2016, Wikileaks wrote to Donald Jr. with; "Hey Donald, great to see you and your dad talking about our publications," This was said after the then candidate Trump in a rally proclaimed his love for Wikileaks saying "I love Wikileaks"
On November 21, 2016, Wikileaks suggested to Donald Jr. to leak some of his dad tax returns, Wikileaks wrote; "Hey Don. We have an unusual idea.Leak us one or more of your father's tax returns."
Here are the screenshots of message exchanges between Donald Jr and Wikileaks released by Donald Jr.;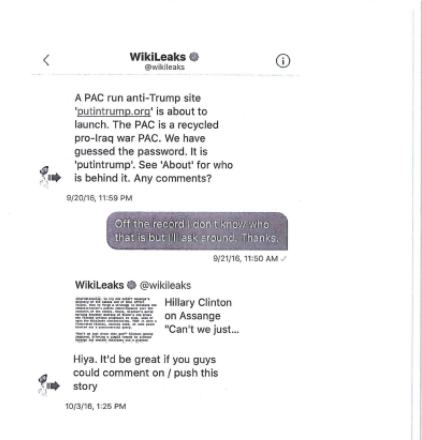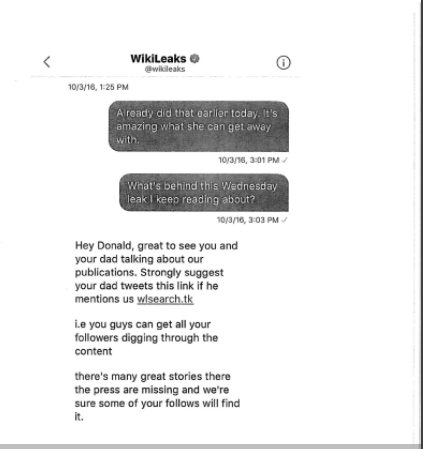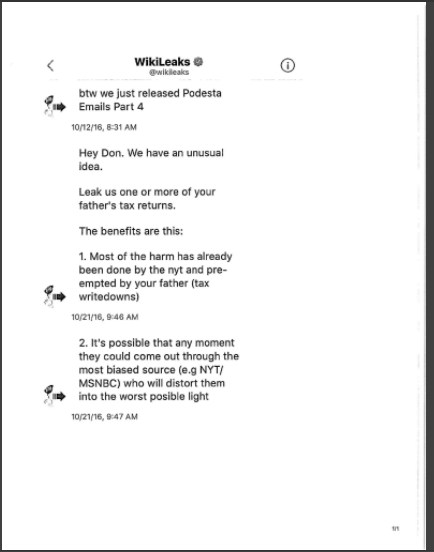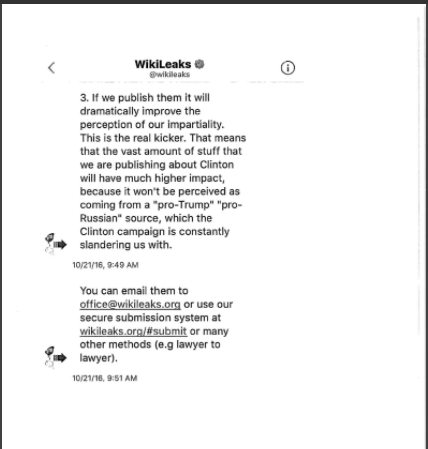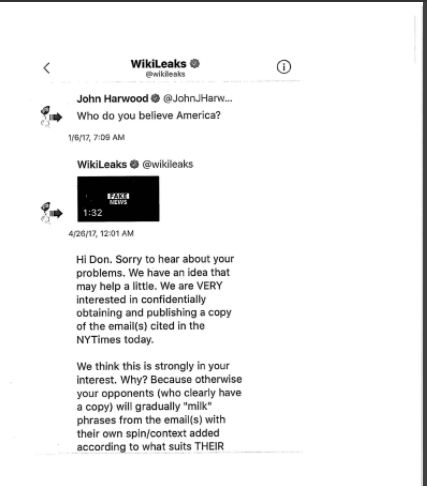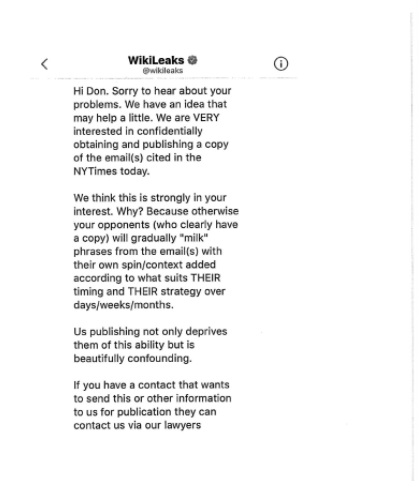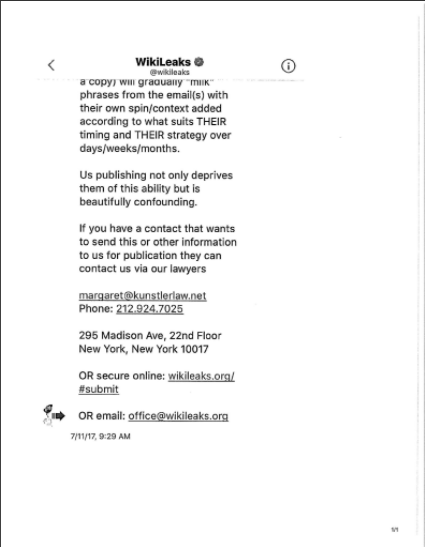 November 8, Wikileaks who had been silenced then send a new message to Donald Jr, writing; "Hi Don if your father 'loses' we think it is much more interesting if he DOES NOT conceed [sic] and spends time CHALLENGING the media and other types of rigging that occurred—as he has implied that he might do"
On December 16, Wikileaks wrote "Hi Don. Hope you're doing well!, In relation to Mr. Assange: Obama/Clinton placed pressure on Sweden, UK and Australia (his home country) to illicitly go after Mr. Assange. It would be real easy and helpful for your dad to suggest that Australia appoint Assange ambassador to [Washington,] DC."