Wednesday, May 21, 2014 - 11:58
The popular Tv series actor Michael Jace is also known Julien Lowe in the V series "The Shield" is currently in police custody for murder of his wife April Jace. The police responded to a 911 call from the actor himself when he claimed to have shot April. Michael Jace shot April multiple times in the torso.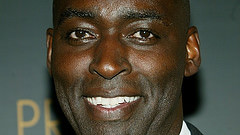 Image Credit: Gullpress WNA
The horrible incident was witnessed by the 2 kids of the couple and are just under the age of 10 and are currently staying with relatives.
The previous marriage of Michael Jace ended on complaint by ex-wife Jennifer that he is a serial wife beater and very violent. Even though the divorce went through, April was said to have defended Michael and confirming he is a good man and husband.
Before the shooting, neighbours have claimed Michael and April argue over money. The actor might be out of cash recently as he was said to have filed for bankruptcy in March 2011.
We will update more information as the story unfold.