Friday, June 9, 2017 - 19:43
On June 9, 2017, fans of Taylor Swift will once again be able to stream her music on all major  music streaming services, including Spotify. Taylor removed her catalogue swiftly in 2014 from Spotify citing low royalties and their refusal to make certain songs more expensive to other songs.
Taylor told Times in 2014 that "I think that people should feel that there is a value to what musicians have created, and that's that." At the time, Taylor was at the top of every music chart with her 1989 album, and pulling the plug from Spotify was a major blow to Spotify at the time.
Taylor announced that the new move is to celebrate Taylor Swift selling 100 million records, and this is a "Thank You" gesture to the fans.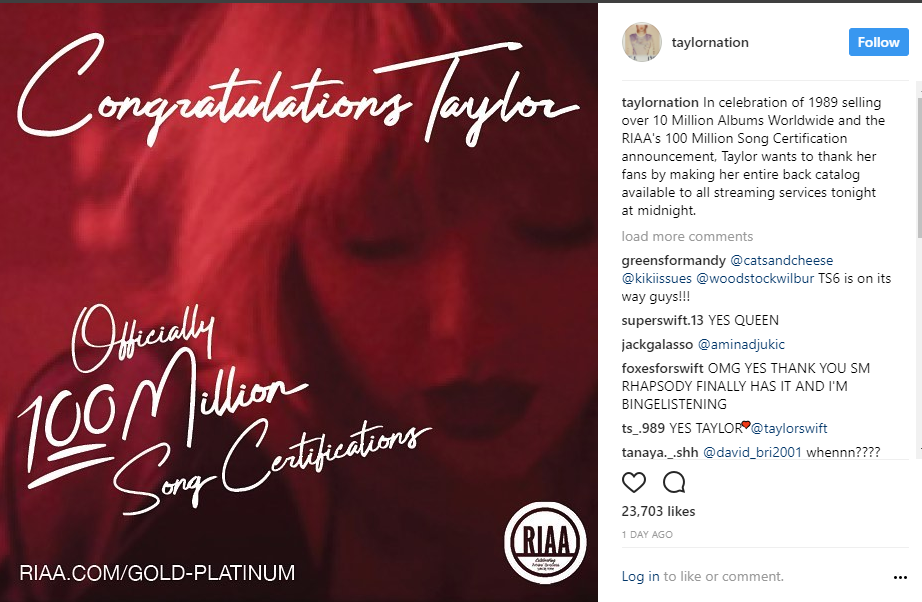 Taylor Swift was nowhere to be found after Kim Kardashian released a tape of Kanye calling to ask for Swift permission to use her name on one of his track record, "Famous" in his album, Life of Pablo, something Taylor has told the world Kanye never did. After this incident, Taylor also faced a breakup with boyfriend Tom, which makes her go on low profile and less show up on the media.
Rivalry With Katy Perry Re-Ignited?
Just hours after Katy Perry released her "Witness" album, Taylor released all her catalogues on Spotify again. The same night that Katy dropped her album, and Twitterverse also believes this is a move by Taylor known for such behaviour in the past .
These are some of the tweets after Taylor released all her catalogues;