Wednesday, August 17, 2016 - 22:21
Though coming a little late, but I believe after watching and reading comments from different part of the country from both male and female, young and old, single and married, I know I will still need to write what I think about the whole Redeemed Christian Church of God, General Overseer, Pastor Adeboye advise he gave youths at his church on who to marry and spouse they should avoid.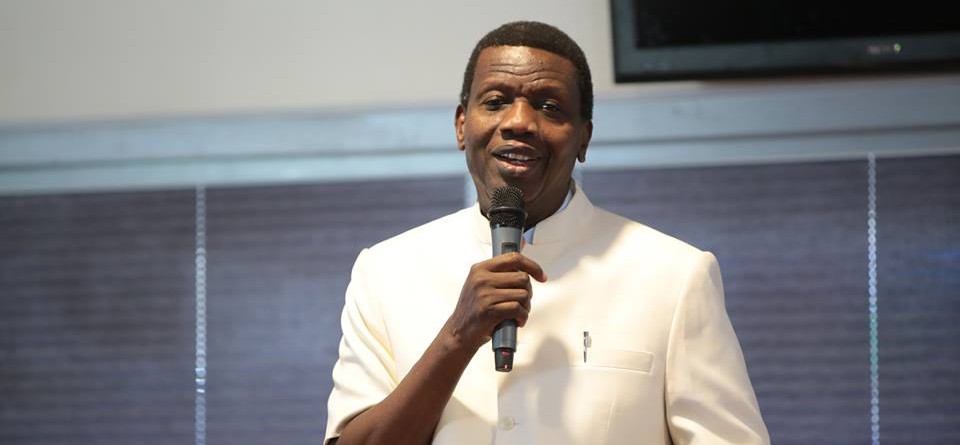 Pastor EA Adeboye is no doubt one of the most respected men in Nigeria, and aside from that, Nigerians are conservatives, they respect their elders, and sometimes will worship their pastors, and Pastor Adeboye seems to have tick both buttons, he is an old man, and also a man of God that oversees millions of worshippers, home and abroad.
So, an undated video hit the web, and twitter and other social media outlet were on fire when he asked the men not to marry any lady that does not know how to cook or pray for at least 1hour non-stop.
Now, first of all, there are men are there are boys, so am going to break it down along this article on what I think is right or wrong, and also know this is an opinion, we are allowed to make one, and if you have yours, use the comment section below.
Not too much of religion references, all will be common sense, so read this article as an African man, original one.
Back In The Days
Nigeria from the day of our our forefathers have set a standard for marriage. Marriage without going through the bible is a relationship between a man and a woman, and that is the believe of Nigerians, and also why Nigeria is yet to adapt to the law of gay or lesbianism, not that Nigeria is backward, it always sounds disgusting and irritating to a lot of Nigerians. 
In Nigeria, before marriages can ever happen, the man  and the women always keep themselves for their big day. The woman is said to be complete if she is a virgin, and a proof must be shown to both families on their first round of sex on their first night, a lady that is not a virgin back then brings shame to her family.
A lady back then should know how to cook, this is not something they tell you, you just know how to do it, and while your man is away trying to get food on the table for the next day, the wife already prepare food and water for him when he is back..
Now, does that make our ladies slaves? at that point in time, No, the woman is not a slave, and this is why we have a lot of marriages that last longer than we have now in Nigeria. Now Hold that thought!!!!
State Of Mind Now
Gradually Nigerians started inviting other cultures, and we get to travel away from the shore of your fatherland, mix with new culture, and gradually, virginity is a myth in Nigeria now. Deceive yourself all you want, girls be loosing their virginity faster than Usain Bolt finishing his 100m.
Is that wrong? as an African man, Yes. A lot of people have to fast and pray, and will blow their trumpets if they meet their wife as virgins nowadays.
A lot of girl have seen cooking for their husband a job, and believe marrying a man that wants them  to cook is crazy, because cooking for their man is slavery.
Ok, let me bring you back to this Pastor Adeboye Prayer and Cooking and praying advises.
Sometimes, we believe we grow everyday, which is right, but the right questions we fail to ask is, are we growing for good? or just growing? In an African set up, 95% of men will tell you they would prefer to have a lady that can cook,and trust me, lots of these men have favourite dishes. 
A boy will tell you 74 year old pastor Adeboye is stupid for that comment, just because he stays in New York city now, and makes $20/hr while he watches Kim Kardashian and follows the like of Kylie Jenner on snapchat.
Pastor Adeboye is a mathematics professor, married to his current wife, Foluke Adeboye for 50 years. So maybe you should sit down and listen how he had maintained his marriage, especially if your dad is with two wives and your parents are living aparts.
A lot of bachelors that are looking to marry will tell you that they would prefer a woman that can make some good ogbono, banga or jollof rice. Does this make their wives slaves, or did they think less of their female counterpart? Hell No!!!
Feminism And Sexism
A lot of youths in the world today are very fast to use the word anti-feminist/sexist for some of your comments, and people have to watch what they say, and these words are filtering into homes now that ladies believe that cooking for men makes them a lesser gender than their male counterpart. 
If a lady is feeling this, it is either she is has been moving with the wrong gangs, or she has been cooking for a boy, because a real man appreciates their woman and will make them feel appreciated.
Who Will You Marry?
Lady A: Woke up next to a lady , and she told me to go wash her clothes in the cleaning machine, I was shocked, but she was serious, and won't let me sleep after working my night shift, she has been sleeping all this while while I was gone away, and she believe a nice hug and kiss would make it all work fine.
Lady B: Another lady, though in another province/state while working in her area would pick up my clothings, since there is no machine, would lock herself up for almost 1 hour cleaning all my clothes in my bathrooms, and when am back from my shifts, and tired, i always get up with a sparkling room, and my food on the table.
I don't know who is your dad/mum, but trust me or call me any name, i think I will stick my gun to lady B. 
Is lady B my slave? Hell no, and Satan help you, you disrespect lady B while I was around, You had better disappear or have a good stance like Muhammed Ali, because someone would not be able to walk straight as one of their joints will be off, and that person is definitely not me or the lady you disrespect.
Should You Marry A Boy That Can Cook?
First of all, marry the person you want to spend eternity with, someone that you can understand and love to the fullest. I have no problem going to the kitchen, my mum will tell me; boy I am not pounding that yam if you eating, come over here,  call your dad, you both are pounding, and trust me, we do it with fun.
One time, my sisters were all out for their hair and gossips, and it's about dinner in next 2hrs. My dad called me and asked me to make bread and beans for dinner, and I playfully told him, ohh, I don't know how to cook it, lets wait for the girls.  he said, wait for who? So if they don't come back in 2hrs, I won't eat dinner, I look at my dad because those are questions you prefer to ask the floor than reply.
He asked me to get ready because we are the men of the house, and we cooking, I thought he was joking, I never knew my dad can cook that much, off we go. He will ask me to check the water, check the oil, add salt, and all.
Lo and behold, we had dinner, and it was like a normal day. I had beans/bread yesterday using my dad's techniques. I have always used it, and have taught other guys too.
My dad taught me how to fry an egg, make akamu and fry Akara. Different scenarios of these foods have seen me and my dad in the kitchen, I slightly hate it then, but he just does it while he jokes around, and you actually love doing it, and now, am all by myself, I don't eat outside.
Not that I have a choice back then though, unless you have a new father somewhere and not forever coming back to that house.
So I think it is ideal for a man should know how to cook, but like I said, when you leave your man to do all the cooking everyday, and you make excuses, or hink you cannot cook because it makes you look like a maid, Ngozi or Tanwa will make some nice vegetable soon, and he will be hooked, your marriage divorce countdown has started.
Do I Care?
I think we should not be arguing about this cooking nonsense, especially if you African. There are highly successful ladies out there you wonder if they cook for their husbands. 
Omotola Ekeinde said she still cook for her pilot husband .
The wife of Nigeria president, Aisha Buhari also said she does cook for her husband, Muhammadu Buhari.
When asked if  the second richest African woman after Isabel Dos Santos and also the third richest woman of African descent in the world, Folorunsho Alakija cooks for her husband, she said;
My husband is my best friend, biggest ad¬viser and supporter. We've known each other for 40 years and have been married for 37 years now and with four boys. Even though we work in the same office, I always ensure that we kiss twice in a day, morning and night.
I still wash his undies until six years ago that he insisted I should stop. I also prepare his special vegetable dish, do his manicure and pedicure regularly."
She also added:
It gives me joy whenever his friends praise my vegetable dish based on what my husband tells them.
The funny thing is that even our Nigerian brothers abroad, whenever they marry their wives from their host country, some of them will follow their husbands to learn about their food and recipe, while others will sit watching Youtube just to satisfy their man.
But a Nigerian lady who is still in NYSC and is yet to figure out what next after she finishes from LASU or UNILAG turn activist and says Adeboye is anti-feminist, breaking news dear, your parents too are anti-feminist, good luck telling your mum not to make your dad's next meal.
And stop watching movies, this is real life baby
What Does This Mean?
I was born in the land of ladies, both back and front, and ladies love me too. I have never disrespected any lady (Not that I want a cookie for that) am a normal human being, so I believe not hitting or disrespecting someone is normal.
While we have a lot of psychos who would disrespect, hit or ask a lady to be their slave, not everybody does that. A lot of people out there believe in this same category, I believe we are want we want to be, and the people that want to make "we are equal" slogan are just looking for either attention, or they have been dating the wrong fella(boy) their own life. 
A lot of you will be divorced before 30-35 years, your marriage lifespan will be so around 3-5 years if cooking for your husband is your highest problem, and like I always says, single mom wish they were still married, don't join the statistics of single mom because you don't want to cook for your charming prince. Be like DJ Khaled, be smart.
Next time your hubby ask you to go and cook, give him your phone bring him to kitchen to capture your cooking skills just as this lady:
A Lady That Can Pray
If you intend to go marry a lady that will prefer to go with you on therapy all your life because she believes praying is a waste a time, maybe Karma is just handling you the best way it can, but this is very personal to me as the policy on Doynews does not allow too much of religious opinion forced on readers.
       I will never marry a lady that cannot pray for 30minutes, if there is none, there is a thing call patience and celibacy.
Article written by: Anthony Iglesias (Doy News Africa correspondent)