Saturday, January 13, 2018 - 21:58
Emergency alert sent to phones of residents in Hawaii caused a panic. The emergency alert was sent in all caps "Ballistic missile threat inbound to Hawaii. Seek immediate shelter. This is not a drill."
Hawaii Emergency Management Agency spokesman Richard Repoza has now debunked the claim, and said that it is a false alarm, and the agency is looking into what happened. Hawaii has been preparing for the worst case scenario since North Korea armed itself with missiles, though unlikely that the country would ever use it.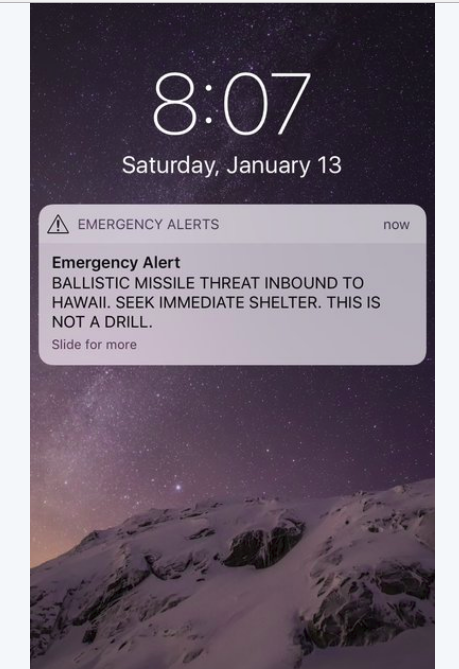 The Hawaii Emergency Management Agency (HI-EMA) said that if any missile is approaching Hawaii, it would take 20 minutes, and the military will take 5mins to see if the threat is real or not.
According to Toby Clairmont, HI-EMA executive officer, told NBC4 sister station KHON, he said;
We're going to trigger the siren system, the second siren sound. We're going to send messages out on radio and TV, so if you're listening to a radio or TV station, you're going to see this. If you have a smart phone, a text is going to come out with a big banner in front of it. It'll make a strange sound and tell you something is happening. All that will happen within the first few minutes.
Hawaii residents could be asked to keep shelters for two weeks if such happens, which means they have to keep emergency supplies of 14 days.