Wednesday, January 3, 2018 - 15:42
Donald Trump might be seeing one of his enemies soon in the senate after Orin Hatch announced his retirement. Mitt Romney has recently changed his bio on Twitter after the Hatch announced his retirement at the end of the year.
After the announcement, Mitt Romney changed his location from Massachusetts to Holladay, Utah. While the new change might look as of no big deal on a normal day on Twitter, there has been rumour of Mitt Romney running for the open Utah seat in the case of Hatch retirement.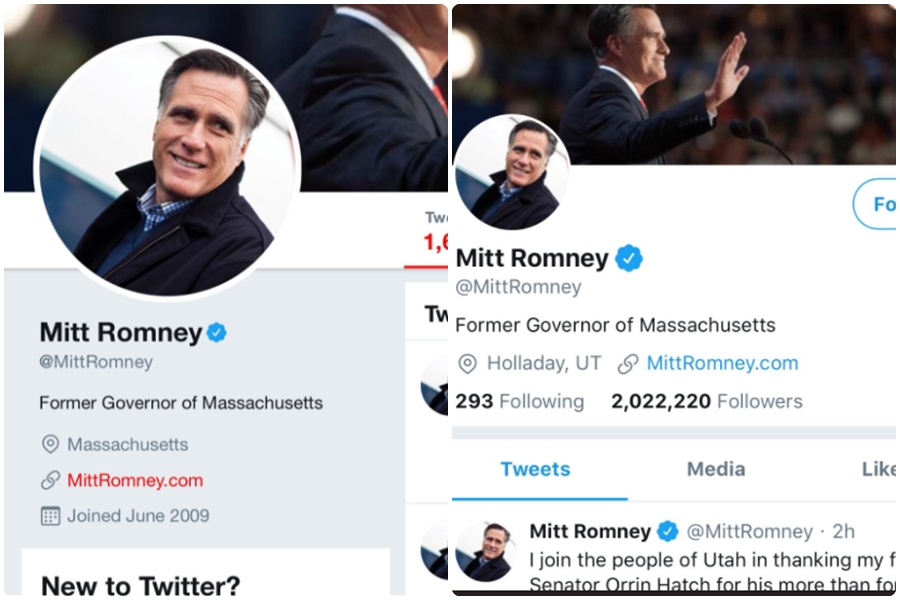 Old twitter profile VS New twitter profile of Mitt Romney
Donald Trump and Mitt Romney are not close pals, even though the two Republicans met after Trump's victory for dinner, while looking to make Romney secretary of state, which later backfired.
In the run up to the 2016 election, Romney said;
Donald Trump is a phony, a fraud. His promises are as worthless as a degree from Trump University. He's playing the American public for suckers: He gets a free ride to the White House and all we get is a lousy hat.
This is one of the reasons that Trump was pushing for Hatch to run again for the eighth time for his seat.
According to the polls, Romney has great chances of winning in the election, but this is not a good news for Trump, but Republicans are also looking to win more seats in 2018 after losing one of their major seats to Democrat Doug Jones in Alabama.