Tuesday, March 17, 2015 - 23:08
fricans read this piece me as Africans, You non-Africans please read with an open mind.
Have you ever wondered why Africans never developed till date? We have 53 countries in Africa and all this African countries can't even compare to a 95% of other countries out there.
In this column, I will be bringing my spotlight on Nigeria and other African countries in general. You ask why focus on Nigeria? It is because, it is the Elephant or the heart of Africa. But if you think Nigeria is the heart of Africa, then I can tell you confidently, African needs a heart transplant.
I will say this now and will say it again. Africa will never ever develop, it will remain the way it is now and in a long time unless something is done. African Union, where we all think the leaders discuss about the progress of Africa might just be a meeting of discussing how much money each leader already stole away from their countries.
According to World Bank data 2010, Sub Saharan Africa countries are the poorest continent with 48.5%...And part of these countries include Nigeria.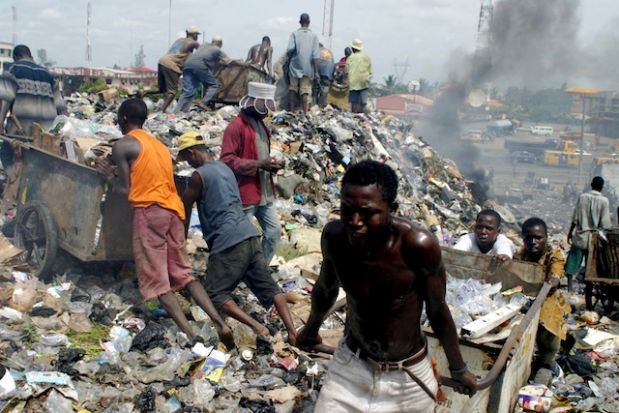 Other countries continue to mock Africa because of its poverty, African leaders in their countries have mismanaged their economy and the people they were supposed to serve, and just like the colonial masters taking Africans away for slavery, a lot of African leaders have turned their people to slave even in their countries.
Is Africa that poor? No.. A lot of media talk or stories not based on fact shows Africa is a poor place where people live less than a dollar a day, but this was not supposed to be the case, but the leaders in Africa have decided to fill up their pocket with riches and the little drop from the fill up is what the masses get.
In this write-up, I will share with you some corruption that will make Nigeria and other Africa countries be at a standstill.
      Money Mismanagement
Nigeria Is 54 years old, Ohh boy, I weep for a country dead on arrival, but the citizens don't know it. Sometimes I think Nigeria was not matured enough for its independence at the time the British decided to let it go and some people just connived together to get independence for their personal interest (No offense).
Corruption is everywhere in the world(Fact), when I write everywhere, I mean everywhere in the whole wide world, you see corruption, but Nigerians have upped this game of corruption so high, Nigeria or African leaders version of corruption might need a new name.
As an African child, have you ever wished that your parent was part of the slave back then and you are now a Portuguese, Canadian or American citizen now? Even though, they face a lot back then and still facing now, but the peace of mind and the less insults you get when you stepped out of your country is minimally reduced.
Nigerians leaders continue to loot from the first day we gained independence and are still looting till now.. None of the leaders in Nigeria are loyal, don't believe in that, " I am the best or the holiest president" . It's a lie. They all stole billions of dollars.
When the military ruled the country, they keep giving out oil blocks to relatives and awarding contracts to themselves. We were hoping civilian rulers would change all that and make us all proud. But it is still the same way it used to be.
How can a nation of 54 years still don't have a 24 hours electricity and running pipe-borne water. Every four years we see a new leader forced on Nigeria. Note that this write-up is not talking about the current administration, but talking about the start of the country itself. The same thing we hear every 4 years includes:
Good electricity for the people.
Good roads for the people
Good water for the people of the country
Security
Good jobs
Agriculture… and bla bla bla
These phrases are what are mostly used in every campaign, check campaign videos on YouTube. This is what a country of 54 years after independence is been saying since it was allowed to govern itself. Nothing is working. Nigeria the heart of Africa is a failed nation. Other countries are working on developing their ties with smaller nation, Nigeria is being called under-developed from its day 1, till now, the name never changes, after 54 years….That is a basic definition of failure, because a fool at 40…you go ahead and complete it..
The looting of Nigeria money did not just start from the federal level.. It is from the grassroots. From the local level to the state and then federal level. People have seen politics in Nigeria as a shortcut to be millionaires or billionaires depending on the office you hold.
Everything still remains the way it used to be since the nation's independence on Oct. 1st 1960.
Do you know that when governors are elected to power, they create a proxy company or have a joint collaboration with top construction companies in Nigeria? So they award big projects to this company in billions of dollars, but will carry out a dead projects for the people that collapse every 4 years, so when they leave, the road or building is already looking bad.
Recently a leak was revealed by the media on how some ex-governors signed a pension law that will make them to continue receiving money/pensions after they leave office.
This is currently happening in the 36 states in Nigeria, but recently 3 of them were leaked to the public and they are:
Akwa-Ibom State: N100M FOR MEDICAL (Converting this amount on xe.com is roughly $612,000) . And will also get the same salary as the incumbent governor for life.
 Lagos State Governor: Will get 6 new cars every 3 years, a house in Lagos worth 500million Naira and another one in Abuja, state capital worth 700 million Naira. Also will be paid 100% of what the incumbent governor is getting.
500 million Naira = $3.6 million
700 million Naira=$4.3 million
Rivers State: 3 new cars every 4 years, have his own house anywhere he wants it. Receives the same money as the incumbent, medicals for the whole family and more.
These are people who served and can get themselves properties anywhere in the world. They served us for 4 years and we will serve them till they die? Why 6 cars in a poor country that lives below 1 dollar? How much is a premium insurance from the best insurance company in the world?
You think Nigeria is poor? Think again
Do you know about the news that was recently posted about a $50 billion missing in the NNPC (Nigerian National Petroleum Corporation) ? After a lot of abracadabra, it was later said, it was not up to that amount and the missing money is just $20 billion. That is ok, According to Deola of Sahara reporter's calculation, which I agree with
Nigeria don't have a modern international hospital, if you don't know, most Nigerians are sent to the US or India, while some go to Germany for treatment. They even go there when they have a slight headache.
I am sure you remember Late President Yar'adua was sent to Germany before his death, Wife of the current President was at the German hospital for food poisoning that almost took her life, Patience Jonathan. They all don't trust our medical facilities here and won't improve it for the low class citizen
Nigerians, let's calculate our losses in Black and White…..
From 20 billion dollars, if Nigeria removed just $50million to build its hospitals, Nigeria will have over 400 international standard and modern equipped hospitals.
Do you know Nigerians don't have a running railway line, instead they have decided to get some used, looking horrible trains from some other countries. WHAT A SHAME
If Nigeria government decided to build a running railway line, a perfect major railway lines that will be interstate for its people just like the one you have in China. The Nigerian government can have one with $3billion only, just from it's missing $20billion. Instead they are buying a locomotive train with a
Dingi don dingi don…..pooooo… sound …..SHAME.
Have you been to Nigerian Universities recently? Nothing is working, the hardship of studying in a Nigeria University is too much. If they decided to use this money to build a modern nice university of high standard. They will build 40 beautiful universities in Nigeria with just $500million. And Nigeria is just a country with 36 states, which means each state will have its own university. Instead, they keep increasing money for university students and won't pay their lecturers, remember the last strike, it took almost 4 months, and nobody cares because their own kids studied abroad. Poor youths.
Ok, let's forget all that, if the Nigeria government decides to use the money for electricity issues that plagued the country for 54 years, Nigeria will build 4 different dams that will generate 24 hours supply for its people…4 dams Nigeria…So nobody will have to shout UP NEPA, the electricity is off and back on.
The chairman of the Central bank of Nigeria that revealed this secret was sacked weeks after this revelation and humiliated…Are they hiding something?
Nigeria will remain in it's stagnant position of corruption in a long time unless something is done.
Everybody is absolutely corrupt in it's government level. Whether short, tall, light or dark, all corrupt. They come on twitter to tell you how good they were and how good they will transform you. It is all poetry, a complete lie. Nigerians don't still get it…..
I will take you through different chapters of my opinions. And I am sure you will reason with me when am done. Remember Africa is not a poor continent, Nigeria is rich, Africa is great but they have bad leaders.
Share this message until someone that will act can lay his hand on it, don't sleep Nigerian youths, looks like somebody is enjoying your days with theirs….
Subscribe on Doy news…This is just the first part, we will make this chapter by chapter
Doy News.