Wednesday, July 8, 2015 - 21:56
Femi Fani-Kayode, the director of media and publicity of Goodluck Jonathan/Sambo campaign has written recently on his Facebook account about the recent happenings in Nigeria. Femi said that Nigerians will be deceiving themselves if they believe that the current person of General Muhammadu Buhari is here to curb the terrorism menace of the North-East part of the country, he said that the president has always been defending the terrorist group, and also share their views, and now that he is in power, he is definitely going to give them a free hand to operate.
\
  From left, Femi Fani Kayode, President Muhammadu Buhari and Bola Ahmed Tinubu
Femi Fani-Kayode said that he was not really surprised at the recent bombings happening in different parts of the country by Boko-Haram and their newly found barbarity, courage and zeal. He said that military checkpoints have been removed from Nigerian roads, therefore, Nigerians should not be surprised.
He also said that over 182 arrested Boko Haram members were freed by the order from the presidency, and that whether people like it or not, Boko Haram have strong friends and allies who are ruling the affairs of the nation.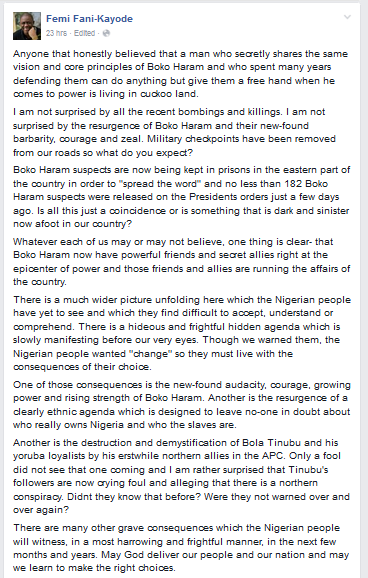 He said that a lot of things will happen in the few months that Nigerians won't believe as situation are only unfolding as time goes on. He said that though they had warned the Nigerian people, but they wanted "Change" so therefore must live with the consequences of their actions.
Femi Fani-Kayode also writes about the recent political appointment in the country, as the president have only been appointing people from the Northern part of the country. He said that the ethnic agenda of the current government should leave nobody in doubt on who really owns the country, and who the slaves are.
Tinubu followers can now see his destruction and demystification by his trusted allies in the APC, and it is surprising to see Tinubu followers crying foul over that, they should have seen the Northern conspiracy as we warned them but they never yielded to our advice.