Saturday, May 27, 2017 - 16:25
Freelancers and people dealing with funds online have always asked me the same question, "What is the best way i can get paid online". A lot of freelancers lost funds when they withdraw money online, while some are geting delays when they withdraw funds online, so the question is, How do you get the best service for your money?
How have you received your funds in the past? How did you pay for your online services in the past? Which of these systems do you trust more? What are the charges? How flexible is PayPal or Payoneer? So in this short write-up, am going to answer the question in my own words, and you can decide how to go from there...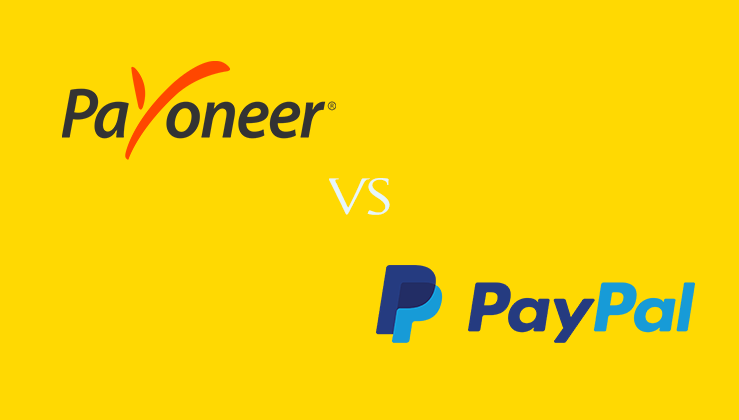 PayPal and Payoneer are two great global payment system every freelancer should have to receive funds, both does great work, with little difference in charges. 
PayPal is an old payment service that is well known for sending and receiving funds. It is also known for its top-notch security, and it is one of the payment system that  hackers have tried but failed, due to its heavy investment on security.
In a great breakdown format, let me say few things on PayPal
Security: Hacking PayPal is not an easy feat. Hacking PayPal will only mean hacking individual account, because nobody has tried, and PayPal security is one of the best in the world, with over $50million security investment.
Hackers will surely prefer to get paid by PayPal when they see a loophole than tell the whole world, looks like PayPal pays great.
So if you have your funds inyour PayPal account, you can be rest assured it won't be leaving soon. Moreover, it is a regulated system under the government, which means it is well trusted and secure. 
Receiving & Sending: You can get paid, and receive instantly from any part of the world with your PayPal account. You can either use the email account you used to sign up your PayPal account, or configure your PayPal account to use the new PayPal.me, and you can also send an invoice to a seller after you have rendered them your service.
Payment Withdrawal: This is one of the issues a lot of freelancers or users of PayPal frowns at. While getting payment via PayPal is instant, withdrawing payment from PayPal to your local bank account sometimes might require you to pray and hope.
Don't borrow money from a friend with the 100% hope of paying them back if you are withdrawing from PayPal. 
Money withdrawal via your PayPal account will take 2-4 business days, and if you withdraw funds on a Friday, that does not count, you will probably get paid around Wednesday if you are lucky, or Thursday. PayPal seems not to process withdrawal transactions on weekends.
So if you need money fast, PayPal might turn to a swearing hobbit.
PS: A friend from UK/US once said they get paid within hours when they withdraw via PayPal..They started making fast payment around late last year, this does not apply to other countries. I will appreciate your comments if you are reading from the UK/US to confirm this.
Conversion Fee: The Conversion fee is something that is being discussed everytime on the different PayPal forum, and for some reasons, PayPal had kept this information to themselves, and had only given users what some termed as "PayPal conversion rate".
 If your US clients payyou via PayPal, and you are in Singapore, PayPal will first convert the funds for you all in your PayPal account, using their own transfer rate, and not the standard market rate, and send you their own converted rate to your local account.
 The question is "What is PayPal standard conversion rate?", and the answer is- nobody knows, it will depend on your time of transaction.
Transaction Charges: PayPal supports wide range of currencies. Which means you can get paid by Australian client with the AUD, or get paid in Pounds from your UK client. This is great. 
PayPal charges around $5 per a 100usd transaction, and other transaction charges, not to mention your bank might also bill you for transactions.
Customer Service: I will not generalize this, but outside the US, PayPal customer service, especially the ones in Singapore, taking care of Asia region are total jokes. The customer service is the worst anybody could ever come across.
These people won't reply you in 2-3 weeks of your message. You will only keep getting auto-response messages and not the real messages.
So even though this is an old company, their customer service, in the Asia region (Singapore HQ) is no good. Sometimes you will need to write people at the top, to get them to rally around you for support, which shows how bad it looks. 
I had issues twice, and I had to call people at the top at US PayPal office, before i could get a response, then a phone call. This was after no response after more than 1 month. I have friends that have the same experiences with PayPal.
Payoneer, though new in the payment transaction market, as proved itself to be a worthy opponent than PayPal. Payoneer helps to alleviate the monopoly payment gateway system from PayPal, and give users the opportunity to choose from either service.
Security: I am yet to hear about Payoneer having any security challenges, I doubt it will anytime soon, as I believe they understand the strength of their business and unsecure payment gateway system is a red flag in the industry.
Time will see to how secure Payoneer can be, but there isn't any incidence that showed otherwise.
Receiving & Sending Payment: At the moment, i use Payoneer to receive funds more than I send it out. Payoneer is very cheap compared to sending out funds via PayPal. When people send out money to you via PayPal, you tend to receive your full money, which means if a client send a $1000 to your via Payoneer, you get $1000 in your home country.
Payment Conversion: Unlike PayPal, Payoneer will not do its own conversion before sending to your account, it instead gets your payment, and forward it to your local bank account straight. The conversion rate the exchange rate of the market for the day. Which means if you want to receive money or withdraw via payoneer, you can go to xe.com, and the same conversion rate you see on Xe.com will be the same amount you are likely to receive after it deducts $3 transaction charges. 
Cheaper and better than using PayPal.
Customer Services: For over 2 years now, I had no reason to contact Payoneer customer service, the service has been smooth, I am not sure of my password to Payoneer until minutes ago, why? Because it just works as planned.
The only time I asked about receiving their card, the agent responded in less than 30minutes, and we went on to have a productive little chat afterwards, explaining in details to me. You might say, probably because they are new, but I believe this should be the right way, whether a new or old company. Moreover, PayPal 3 weeks non-response is outrageous.
Withdrawal Time: Payoneer withdrawal takes a maximum of 3hrs to receive funds. I have not had the problem of getting funds the next day, the last time I used Payoneer, I received my fund in less than 30mins, am not sure if that was a fluke or I just got lucky, but I am leaning towards improved service.
I respect Payoneer when I was able to receive funds that I had withdrawn late in the day, just less than 1 hr before the bank closes, For some reason, got the payment just 1hr after the bank closed, I am not sure on how the system works, but I am happy to have discovered Payoneer. I had to stop using PayPal for any transaction above $500..
You can sign up for your own Payoneer account right now, and you can also refer your friends thereafter and make an extra $25 this week, follow this link to sign up now, Payoneer Sign up Link.
Personal Verdict
In my personal opinion, anybody dealing with online transactions should have both PayPal and Payoneer, you can sign up for free to have both. PayPal relies on heavy security, and it is one of their talking points, you are protected on their services, which means nobody can cheat you using PayPal. It is really strict.
Also, it is good to use PayPal when you buy things online.
If you would like to save fees on withdrawal, get more cash and need more and necessary customer service, Payoneer is the way to go. You can also the Mastercard associated to your account, and withdraw fund to be received in few hours, unlike PayPal 4 days system.
Sign Up For A Payoneer Account And Receive Free $25...Click To Start Now
 What do you prefer? Paypal or Payooner? Comment below