Wednesday, February 21, 2018 - 13:26
President Trump is looking to poke the NRA after he asked his attorney-general, Jeff Sessions to look into regulations that will ban"bump stocks". Bump stocks are the gun accessories that turn legal guns into machine guns, such guns were used in the Las Vegas shooting that saw 50 people dead, and several others injured.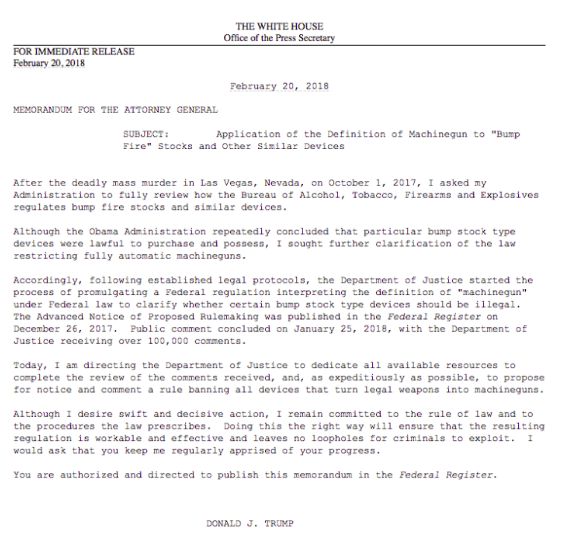 The new regulation is set to be put in place after pressure from survivals and students of the Marjory Stoneman Douglas High School are now starting to call out the different arms of government, asking them to take action on the gun violence rocking the different parts of the U.S.
The latest mass shootings once again have now ignited the debate on gun control measures, after 17 students were killed in the school on Valentine's day.
In a meeting at the East room, Trump said;
We must do more to protect our children. I signed a memorandum directing the attorney general to propose regulation to ban all devices that turn legal weapons into machine guns. I expect that these critical regulations will be finalized very soon. We cannot merely take actions that make us feel like we are making a difference. We must actually make a difference. We must move beyond clichés and debate.
Responding to the President's comment, Sarah Isgur Flores, spokesperson for the DOJ said "The Department understands this is a priority for the President and has acted quickly to move through the rulemaking process. We look forward to the results of that process as soon as it is duly completed.