Tuesday, July 10, 2018 - 04:33
Senate Majority Leader Mitch McConnell was the latest Republican to be met with insults from protesters while going back to his car on Saturday in Kentucky. McConnell was met with both political and personal insults outside a parking lot at a Louisville restaurant.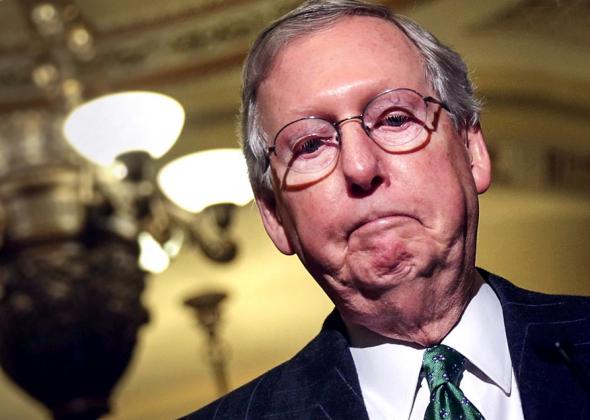 In a video posted by one of the protesters at the scene, protesters can be heard chanting "vote you out!" and "abolish ICE!", and another man in the video can be heard saying to McConnell,  "Turtle heads" and another telling him "we know where you live", as McConell and two other people who had joined him climbed into the vehicle.
This is the second protest against McConnell in 2 weeks. In the last week of June, while in the company of his wife, Transportation Secretary Elaine Chao, they were confronted by protesters while leaving an event at Georgetown University.
The protesters are protesting McConnell support of the Trump administration of the "zero tolerance" policy that separates the children from the mother, something McConnell is not actually supporting.
Watch video here:
The democratic socialists of Louisville have now responded to the protests, by saying through three of its members were among the protesters, the group is not affiliated with the man that shouted he knows where the senator lives. Read the statement by the DSA;
This person is not a DSA member, nor do we know who he is or what he meant by that statement. We believe it is a reference to peacefully protesting in front of McConnell's house, which is a regular occurrence in Louisville. However, we cannot speak more to the comment because it did not come from our organization or our members.