Saturday, July 30, 2016 - 19:21
The Genesis
Sometimes you want things to go, but they always come back in your face, and the best thing to do is to address those issues once and for all. Growing up, people have always had the notion that Nollywood (English, Yoruba) English actors and actresses are more relevant than their Yoruba counterparts, and to be blunt, Yes, they are.
The Yoruba actors like Desmond Elliot, Omotola Jolade Ekeinde, Bukky Ajayi, Jide Kosoko and few others that pitched their tent with their English actors are way respected and relevant than old and legendary Yoruba actors, even though there are awesome Yoruba actors that are better than their English counterparts, but once they are off screen, they are off their viewer's heart.
Chiwetalu Agu, Pete Edochie, Richard-Mofe Damijo,Zack Orji, Kanayo O. Kanayo, Saint Obi and many others are called Nollywood Veterans, but you will never find the likes of Baba Elesho, Iya Osogbo, Yekini Ajileye, Jide Kosoko, Dele Odule, Oga Bello and the rest.
This is the politics of Nollywood and it has been like that ever since. Did I forget to mention that the English actors are not only well regarded, they get endorsements and deals too, while the Yoruba actresses are just eating on their movies alone.
The Change Era (Funke Akindele)
Actress like Omotola Jolade Ekeinde was smart, she got married, stayed out of the press, acted Yoruba movies once in a while, and mostly on Wemimo films only. So she was relevant and was getting deals as they come, and also well respected.
Funke Akindele was the pioneer of the new school, with her Jenifa's movie. The movie not only changed the Nollywood politics and scene, but brought respect and equality to everyone. Before Jenifa's appearance, the Yoruba's and English-speaking actors are already forming cliques and jealousy and hatred, while calling for equality was already in place, but in my own opinion, when Jenifa came out, she blew in all of them faces.
Jenifa is not just any lady, she is also an educated individual, and it seems she actually passed through school as it reflects in her actions and behaviour, then she started nailing them contracts with just one slogan "Jenifa Kan, Ayetoro Kan"
When the young Yoruba actresses saw this, they decided to share the spotlight with Funke Akindele, and that gave birth to clowns like, Toyin Aimakhu, Bisi Ibidapo-Obe and Mercy Aigbe-Gentry. 
Though i knew Mercy Aigbe would be silent after sometime, but it was fine how she came up fast with parrot mouth, but looking at her husband, you would have known that no nonsense would be allowed by that man. Check him out again. 
Now let Us Talk Toyin Aimakhu And Why Yoruba Actress Don't Get The Respect They Deserved Or Asked For
I will first exclude all the legendary Yoruba actors I had mentioned from this post and talk about the self-proclaimed new school Yoruba actresses that have brought disgrace and disrespect to other Yoruba actress. My five reasons I can think of being:
They Lack Composure: I am not sure of Toyin Aimakhu educational background, but her online presence since she came online as been an eye sore for me personally. I will prefer to watch her act, because she is really a top-notch actress. But anything from that, she is a complete joke.
Since the day she got married to one Adeniyi Johnson, and she would come up and Instagram to tell us about some unnecessary stories about her marriage, I know the marriage would soon hit rock bottom, even though i wish I really wish I was wrong.
Few months ago, she came up with another kidnapper story of a new guy she was dating, Seun Egbegbe, and later broke it off with that same dude after some untrue kidnap stories. 
I don't know about you, but I will not respect a lady that acts as a kid, and can't get herself and marriage together. 
Either celebrities or not, we all have our moments in marriage, but the ability to compose ourselves and move on in real life, and not coming to Twitter and Instagram is what makes us matured. 
Aside from Tonto Dike, whom have also learned her lesson, how many English-speaking actors have you seen in the past year talking about boyfriend or husband issue.
They all act like Wannabes: Most Yoruba new schools actresses, especially are just Kate-Henshaw wannabes. They want to be in the media, post instagram photos, do things that will get people talking, but most times do stupid things.
Toyin Aimakhu was trying to help a lady recently called Mayowa. When our editor saw she was in charge, he said, something will go wrong soon with this funding, either she would lose her cool on her donors or tell off the family of the young dying lady.
Though we did not pick up the news because of what our directors say will ensue since Toyin got her hands on this, and lo and behold, just 2 days ago, the #SaveMayowa appeared on a Nigeria popular blog that it was all a scam. 
Toyin wants to be like the other actresses supporting sick people, but her behaviour won't let her. 
Most of them are complete illetrates: Due to the recent attitude of most of these actresses in the Yoruba sector, i feel like they are completely illetrate. Some of them have gone into the industry because they only have to speak the native Yoruba language and body language.
This is why it is really difficult to see a Yoruba actress get big companies endorsement. How will they speak with their fans on TVs, since Nigeria official language is English.
No money, No respect. So they stick to their space.
Yoruba Movies are wacks: The likes of Yekini Ajileye, Ogogo, Yinka Quadri, Baba Latin are when we used to have real good movies. Now, people just get a camera and shoot few scenes and stick it up to our faces, because of that most Nigerian Yoruba movies are wack as they come.
The best way to waste your time on YouTube is searching and seeing another Yoruba movie. No good actors, no good storyline, and before you know what is happening, you see "To God Be The Glory" "The End"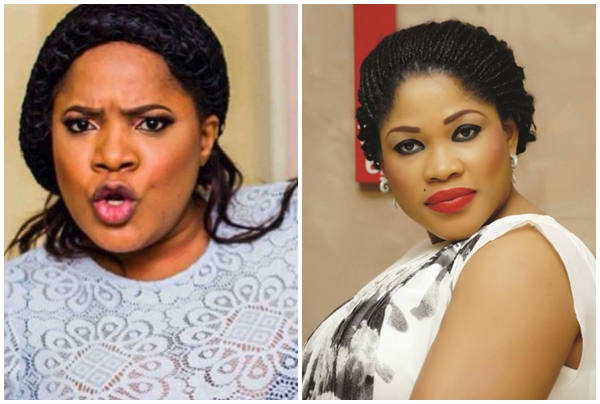 Multinationals are seeing this and am sure they are tired as myself. Nobody will like to throw money to some young boys/girls that just want to shoot a 2.5/10 rating type of movies.
Why the English movies would have their bad days, especially Tonto Dike forming sexy on Nollywood, you get 60-40, so you could get good 60 movies and 40 other wack ones, and Yoruba, you would get 80 and 20 good ones, and those 20s comes quarterly or yearly.
This is not to bad-mouth the Yoruba actors/actresses, with their English colleagues, but the disgrace the likes of Bisi Ibidapo-Obe having a baby without knowing the father, Mercy Aigbe fighting police in Osogbo over stupid reasons and Toyin Aimakhu jumping from man to man and still making us feel like her husband was right for dumping her is just a disgrace to the Yoruba sector of Nollywood.
Toyin Aimakhu was disgraced so much at the hospital, i felt pity for her. She wore a cap,and I would have thought she is a patient too at LUTH. She looks shabby and dirty, and looks like Aunty Tawa living at the basement. They yelled at her and asked her who called a Nigerian blogger, and she look like a complete rif-raff.
A lot of you might ask why I generalize Yoruba actors. This is because when some of you would say, you will say Yoruba actress, Toyin Aimakhu, and not Nollywood actor.
And a lot of people believe it when I say Yoruba actors are not getting well-deserved respect and Toyin Aimakhu is not helping matter.