Thursday, January 12, 2017 - 10:24
Republicans have voted early Thursday to start the repealing of one of the President Obama signature, Obamacare. The repealing of the Affordable care act by Republicans senators has been one of the goals, which aligns with the campaign rhetoric of president-elect Donald J. Trump.
The senators voted 51-48 to approve a budget resolution that Republicans will use to speed through repealing the ACA.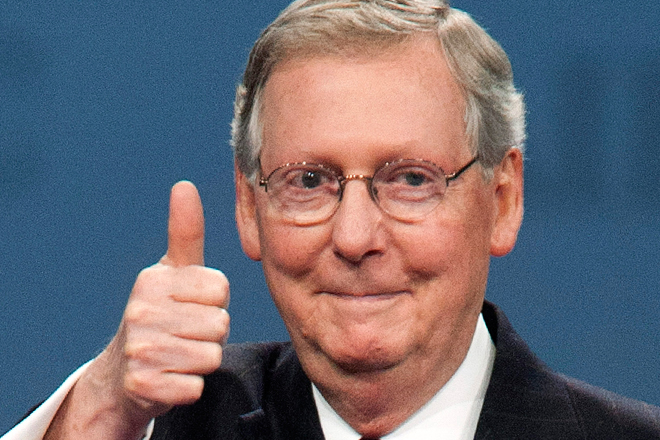 The senate majority leader, Mitch McConnell
The senator believes that the 2010 health care law is broken and should be immediately replaced by something else, though they are yet to come up with such plan. The senators cite the sky rocketing premium prices, high deductibles and fewer health care choice as insurance company seems to be pulling out of the program.
The senate majority leader, Mitch McConnell why speaking on the replacing and replacing of the health care law said;
When Obamacare's supporters forced their partisan law on our country, they promised an easy-to-use system; one that would lower premiums and out-of-pocket health care costs; one that would foster choice and allow families to keep the plans and doctors they liked, but it didn't take long for the American people to discover the truth about Obamacare. Too many have been personally hurt by this law. Too many feel they're worse off than they were before Obamacare.
Senator Patty Murray of Washington and the senior Democrat on the Health, Education, Labor and Pensions Committee while speaking on the Republicans act to repeal the law says;
Ripping apart our health care system — with no plan to replace it — will create chaos.
If Republicans repeal the Affordable Care Act, it's women, kids, seniors, patients with serious illnesses, and people with disabilities who will bear the burden.
Premiums will skyrocket,Out-of-pocket prescription drug costs will rise. And overall health care costs will increase. It's a perfect storm to make America sick again — and absolutely the wrong direction for families and for our economy.
The president-elect and house republicans are yet to offer a program that will be used to replace Obamacare. 
Speaker of the house, Paul Ryan, also said;
It is our goal to bring it all together concurrently. We're going to use every tool at our disposal through legislation, through regulation, to bring replace concurrent along with repeal, so that we can save people from this mess.
In his news conference on Wednesday, Donald Trump said that he would offer a detailed plan on replacement plan when his nominee for Health and Human Services secretary,Republican Rep. Tom Price of Georgia is confirmed by the senate.