Friday, January 23, 2015 - 06:51
Ever since WIZIWIG went dead on football and sport fans,  a lot of football fans have been looking to watch sport on WIZIWIG alternative. A lot of websites to watch live streams sport on PC are on the internet, but many of these websites are either not working with 95% dead links or with bad video production.
Today, i will give soccer/other games fans a better way and a better website with a lot of working links. Just like when i introduced to you about WIZIWIG.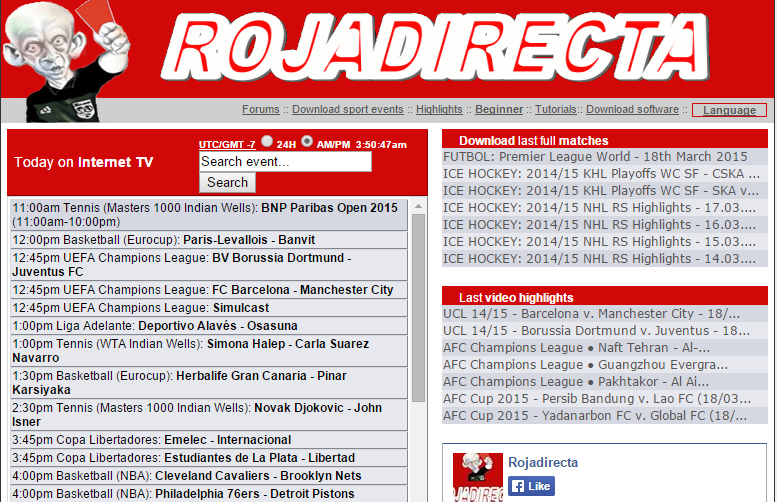 Rojadirecta web interface, dont miss out on them Sopcast.
Forget about the list of websites you see or have on other websites. This is the best and the only website you need. Please take it to the bank
The website you need is Rojadirecta. Though the website is not as organized as you have WIZIWIG. but the truth about this website is that it makes me forget Acestream. ( I will say my reasons later)
Rojadirecta have a list of flash links and other links to watch the game, but my favourite way of watching my games is via Sopcast. Unlike WIZIWIG, all links on Rojadirecta is like watching games on a 3D screen. The games on my laptop via sopcast is super mega awesome, with full screen. Awesome. I have tried this several times and can confirm that the links are great to watch games.
Why Acestream is worthless with Rojadirecta Sopcast links
Acestream is another platform for watching games online, with p2p streaming across the web making it very lovely with smart and no-blurry screen just like 3D. But it's like further mathematics watching games on Acestream platform (forget the hype). You can build dog kernel and your acestream will still be loading. When it's start playing, you might not be seeing the games live. 
If you follow games on Twitter, your friend might tweet goal number 2 and you yet to see goal number 1, Acestream engineers are yet to fix this lagging, i tried last week with configuration on Acestream website, it still never work. So I am ditching it for Sopcast on Rojadirecta.
How To Watch Games on Sopcast With Rojadirecta
Download Sopcast (Windows)
Download Sopcast (Mac)
Download Sopcast ( Linux)
Download Sopcast (Android)
Go to Rojadirecta and choose the game you like to watch.
Choose : Barcelona Vs Real Madrid for example,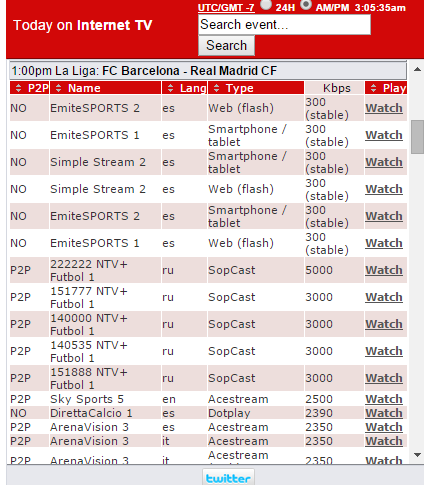 Find all sopcast link and click on watch, if you have Sopcast installed, your browser will show LAUNCH.
Click on Launch and the Sopcast application will come up it automatically.
Wait for the game to buffer, this might take some few minutes, when it starts running, You are good to go
Sopcast will keep loading from there with little or no buffer at all.
Enjoy the games...
UPDATE: Sometimes, the Rojadirecta sopcast links are dead/offline. An alternative to Rojadirecta is Soccer188..Click here to get fresh and working Sopcast links for your games and football matches. Never miss the EPL 
NB : You can watch any games available on Rojadirecta online, not just soccer games.
Let me know if you have a problem with this set up via comments