CNN anchor Don Lemon gets the boots from the network after 17 years. Don who had hosted Don Lemon tonight for eight years, and recently was a co-host on the Morning Show with Poppy Harlow and Kaitlan Collins, was shocked by the news from the network, and he went on Twitter to say he would have thought someone in the management would have the "decency" to inform him of the news.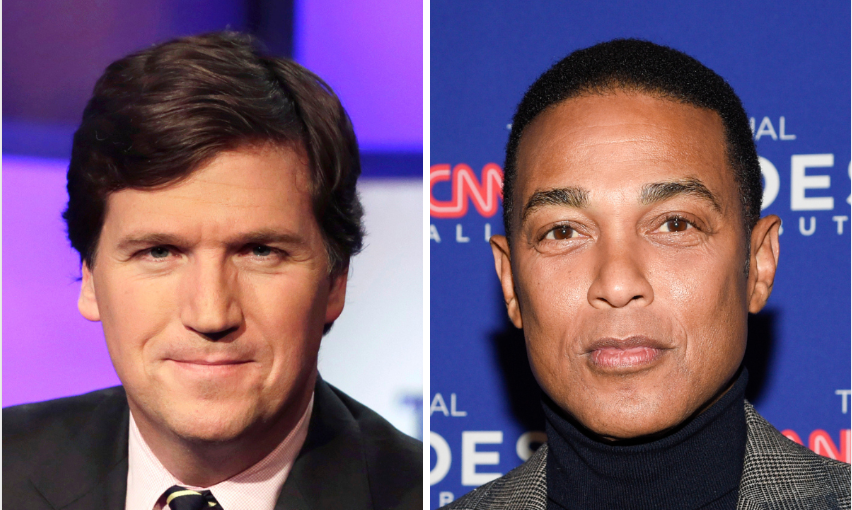 Don Woes
Don Lemon has faced recent backlash from women after he claimed Republican and former UN  ambassador Nikki Haley was not "in her prime" in February, a comment people have called sexist. He said "A woman is considered to be in her prime - in her 20s, 30s, and maybe her 40s", and referred the co-host to Google the statement. He released a statement apologizing for his words, calling them "inartful and irrelevant" comments. HE also apologized to the newsroom and agreed to partake in the "mandatory training" to address the incident.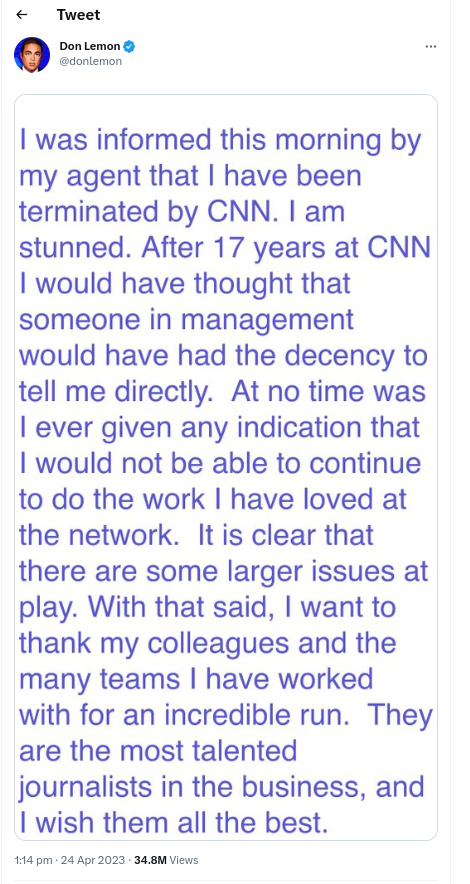 Some women like Michelle Yeoh,60 referenced Don's comments during her acceptance speech last month saying "Ladies, don't let anybody tell you you're ever past your prime." In a tweet on Monday, Ms. Haley seems pleased with the firing tweeting, "great day for women everywhere" adding "#StillInMyPrime".
A report by Variety in April claimed that Don mocked a female colleague and called a producer fat to her face. These allegations were all claimed not to be true accounts by Don's representative.
Another backlash he faced was when he said the US men's soccer team should be paid more for games than the women because the men were more interesting to watch than women soccer team.
Since the comments about Ms. Haley "not in her prime comments", guests have declined requests to join the morning show when Don is co-hosting with them, according to the New York Times.
Tucker Carlson Woes
Tucker Carlson was kicked out unceremoniously from Fox News, a TV Network he had represented passionately, and was the popular show host after BIll O'Reilly left in 2017. 
Fox News on Monday wrote in a statement "We thank him for his service to the network as a host and prior to that as a contributor." Fox News has been engaged with Toronto-founded Dominion Voting Systems for $787 million US and was expected to face a similar lawsuit from voting technology company Smartmatic, for $2.7 billion US in damages.
Even though during the election, and the release of the US election results, Carlson was one of the Fox News contributors that expressed doubts about the voting machine fraud claims made by then-U.S. president Donald Trump and his allies, he still went on every night about the validity of the election, and lieing to viewers that the election was a complete fraud, and brought in different people that claimed that the election was a sham perpetuated by the voting machine used.
Carlson also defended the January 6, 2021 insurrection in the US capitol that saw the death of some capitol police, a comment that got paid Fox contributors Jonah Goldberg and Stephen Hayes to resign in protest months later.
NOW
Don Lemon and Tucker Carlson have hired entertainment lawyer, Bryan Freedman to address their firing from the networks.