Stephen Miller was on CNN State of the Union, hosted by Jake Tapper, and got his microphone cut off amid interview. Jake Tapper switched to commercial after Miller's repetition of answers not relating to the questions, and attacking both CNN network and Jake Tapper.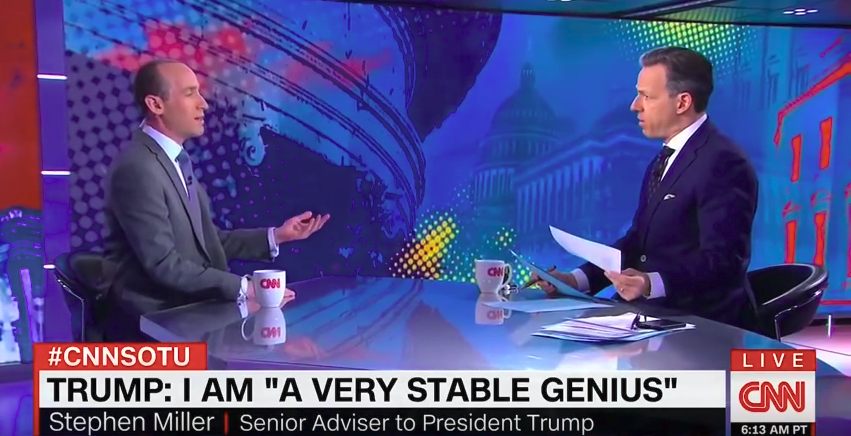 Jake Tapper had continually asked about the newly released Michael Wolffe book, "Fire and Fury, Inside The Trump White House", all the questions by Jake turned into a complete attack on CNN and Jake Tapper, criticising the network of his 24/7 Anti-Trump rhetorics. Stephen Miller said; "You have 24 hours of negative anti-Trump hysterical coverage on this network! Viewers are entitled to have three minutes of the truth! Why don't you just give me three minutes to tell you about the Donald Trump that I know." and Jake responded saying, "Because it's my show and I don't want to do that" then went on further to calm the Senior White House adviser, adding "Stephen, settle down, calm down"
Jake then went ahead and throw a jab at Stephen Miller, who seems to be trying hard to defend the US president at all cost instead of answering the questions. Jake said; "Okay, you're not answering the questions. There's one viewer that you care about right now and you're being obsequious because you're trying to please him. I've wasted enough of my viewers time."
Jake was referring to the one time Stephen appeared in an interview and received praise from Trump, tweeting;

 That said, Jake Tapper cut off the interview, and went on to commercial.