Former FBI director, James COmey in a recent interview believed that the Russian government might have compromising information on U.S President Donald Trump. 
He made the statement in an interview on ABC, but before the interview on Sunday, the President had started a Twitter war on Comey, calling him a 'slippery" and added that the former FBI director is "the WORST FBI Director in history, by far!"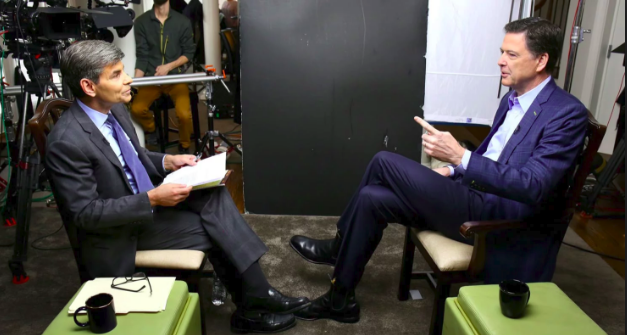 Comey in his interview said the various actions by the U.S President shows that there are "some evidence of obstruction of justice" in the president's actions and that Trump is "morally unfit" for office. The former FBI director talked about his firing in May because he was looking into the election meddling by the Russians in the U.S. election, even though Trump has tweeted the investigation is a witch hunt, and himself or his team have no collusion with Russia.
Comey said the President is morally unfit, and gave a sample of the event in Charlottesville;
 A person who sees moral equivalence in Charlottesville, who talks about and treats women like they're pieces of meat, who lies constantly about matters big and small and insists the American people believe it — that person's not fit to be president of the United States, on moral grounds.
Attacking Comey before the interview, Trump denied he ever asked Comey for a loyalty pledge,but the firing of James Comey caused another scramble at the Justice department that led to Attorney-General Jeff Session recusing himself from the investigation, and the appointment of Robert Mueller, which had since led to the investigation of 19 people, and this include the Trump's former campaign chairman, Paul Manafort and former National Security Adviser, Michael Flynn.
Two campaign aides, Rick Gates and George Papadopoulos have pleaded guilty and are currently cooperating with Mueller.