I was going through the news on Doy News and saw the press statement and video released by the outgoing president of Nigeria, President Goodluck Jonathan. I had also seen people congratulating him on being the hero, accepting defeat and not allowing post-violence election. In the statement he released, Jonathan said :
   I promised the country free and fair elections. I have kept my word. I have also expanded the space for Nigerians to participate in the democratic process. That is one legacy I will like to see endure
I had seen people writing this on Twitter too, congratulating the heroic style of President Jonathan, but i will like to let Nigerians know, this praise is just unecessary. 
The PDP party as a whole have been known to use a campaign strategy since they started in 1999, and have been using it till date, this strategy failed them in 2015. The worst mistake Jonathan made in this election was allowing Professor Attahiru Jega as the INEC (Independent Electoral commission) Chairman.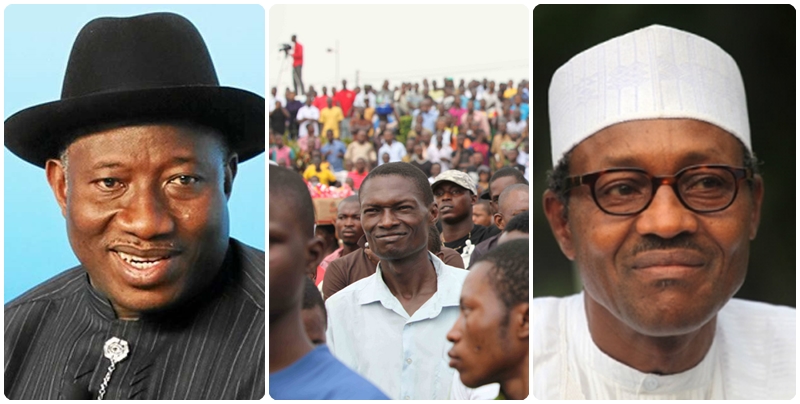 The issue of PVC (Permananent Voter card) was something i am sure President Goodluck never knew would damage his chances of re-election, it was too late to stop the PVC, and Nigerians are not just on the fence, but are on the frontline in the case of any drama by the ruling party.
The tension of the 2015 election is high and for the first time, PDP was faced with an opposition Nigerians really wants in the seat of power, Nigerians just want something different from President Goodluck Jonathan, the young boy on the street screams change, and this change are not just for APC, these people are yearning for real change in the government.
If you have been following Twitter trends,any trend about General Muhammadu Buhari or APC, trends in less than 30 mins, on each hashtags, you can see young Nigerians telling how what it is like in the present day Nigeria. It is hard. Meanwhile the #GEJWinsIt is a funny and useless trend, people are paid to trend the hashtag. And because they could not find something reasonable to say, you see them asking questions like: 
   Are you the first son of your parent #GEJWinsIt
   Have you failed to brush your teeth before going to work #GEJWinsIt
Is that the trend that will confuse you and i to vote for PDP or GEJ? So from social media, you can feel that President Jonathan is leaving Aso rock.
The cabals in his administrations are just not helping. Sometimes when you hear Doyin Okupe tweets or talk on TV, you appreciate your own father. Femi Fani Kayode might think he makes sense with all his press releases, like me, i just nod my head, people should check out Femi certificate, like seriously. I am not going to touch the Ghana issue, so let's move on.
Another man that cripples the President Jonathan Campaign is Asari Dokubo and his threats. This is 2015, you don't just threaten people and tell them you will burn their house to the floor if they don't allow Jonathan to stay in Aso rock for 8 years, Seriously Asari? . 
Mama Peace?? Patience Jonathan, She is a strong woman and I can actually commend her strongwill in going back to the Villa, but Nah, you were about to redefine First ladies, sometimes Michelle Obama saves me from accepting your redefinition. Chai, there is God OOO
Lol, Namadi Sambo, I got to know him during campaigns only. I knew he said Muslims should not vote for General Muhammadu Buhari and Osibanjo because Osibanjo has 5000 churches in Nigeria. Sambo??? In 2015, common mate. 
Nigerians are just tired of the set of people running the government with Jonathan, even if Jonathan is having good intentions, he will not or never survive under those cabals. 
So why is he not a hero? Jonathan heard about the PVC and knew he was loosing people interest, to garner more votes, he extended the election date from February 14th to March 28th. But when people are tired of your government, even if you extended it to December, you cannot change their believes, they were just waiting for card readers to vote you out, It was too obvious and even PDP staunch members knew that.
PDP and President Jonathan probably had met Jega on how to make things work out for him, and from the look of things, the man was not compromised. You will agree with me after seeing the level of confidence and maturity he displayed through the process of announcing the results.
The government tried to remove Jega, but Nigerians were not going to accept none of that, they tried to go back to how we do votes before 2015, Nigerians rejected this plan. The old plan once had a man printed his own ballot paper in 2011 and thumb-printed it not far from my house and gave to INEC officials, his candidate won.
This PVC only accepts thumb-printing, one of the safest mode of security and still used in modern technologies. That means you cannot print out government ballot sheets, or buy it from individuals, you need to pay people at the polling booth. A lot of Nigerians tweeted collecting money and still voted for their choice candidate.
So is Jonathan a hero in this democratic process? I will say No, am not a PDP member or APC, but am assuming just like fighting Boko Haram, he was clueless about the technology or rather believes in his half-baked achievements.
Nigerians are the hero here, You and I that went out, thumb-printed and waited for the votes to count. Also, we should appreciate Professor Attahiru Jega. And the truth is, as the world evolves, Nigerians are evolving too..
Michelle Odogwu For Doy News