Argentina's Lionel Messi is considering retiring from International football after his side lost the Copa America final to Chile on penalties. The known world best player with different accolades to his name says he is giving up after losing  four major competition finals he played with Argentina.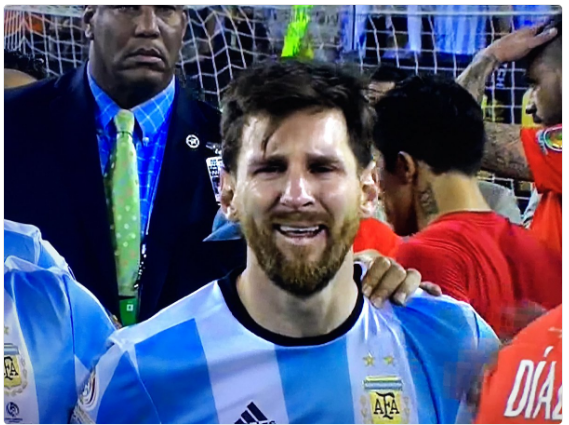 Speaking after his team lost the game to Chile, Messi said;
This is tough and a difficult time," Messi, the Argentina team captain, said. "The first thing that comes to my mind and that I have thought is that the end has come for me and our team [Argentina].
It has been four finals -- it just wasn't for me unfortunately. I looked for it, and wanted it so bad, but it didn't happen for me.
Messi later talked about a cabal of people in Argentina who had wanted him to retire from International football, and looking more upset said;
I think this is best for everyone, firstly for me and for a lot of people that wish this," he said. "The team has ended for me, a decision made. I tried many times [to be champion with Argentina] and I leave without being able to obtain it.
When he was asked if he is finally leaving the team, he said;
I think so. I don't know, it is how I feel and think right now. This is a huge sadness and I missed the penalty.
The 29 year old world football star missed his first ever penalty at the Copa America final with Chile after the two played stalemate for 90mins, and another extra time without a goal from both sides. 
Although Chile missed one of their kicks, midfielder Francisco Silva converted Chile's final penalty to give the lads a 4-2 win over Argentina, second time in a row.