Massachusetts, USA : A 9 Year old girl from Massachusetts, Sofia had written to President Barack Obama to add a woman to the US currency. Sofia, who got a special invitation to the annual white house easter egg roll.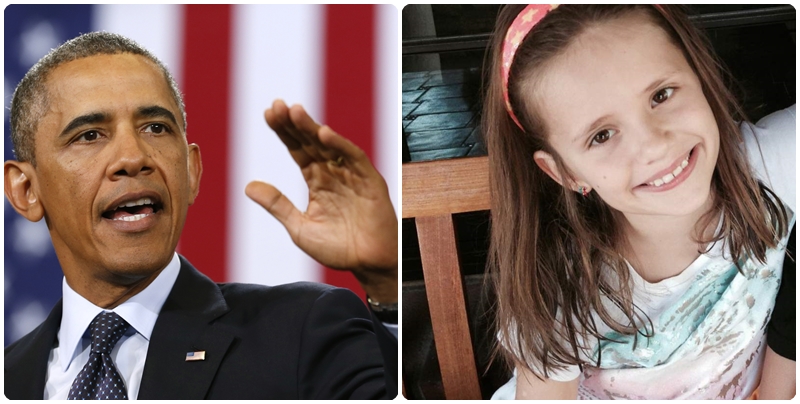 Sofia, a third grade students said :
 I was studying Ann Hutchinson, who stood up for women's rights," she says. "Almost everyone who chose a boy, on their poster they had pictures of different dollar bills or coins with their person on it. So I noticed, why don't women have coins or dollar bills with their faces on it?"
She later got home that day and wrote the president a later :
                          Picture credit : Time.com
President Obama later talked about the letter in one of his speeches about a girl from Massachusetts, who had asked him to add a woman's face to the US currency. Since it was mentioned, a campaign to add a woman's face face to the $20 dollar bill has  gone viral. More than 220,000 people have voted on the online poll conducted by the W20 group. 
Some of the women nominated to be on the $20 bill are : 
ALICE PAUL (1885 - 1977)
BETTY FRIEDAN (1921 - 2006)
SHIRLEY CHISHOLM (1924 - 2005)
SOJOURNER TRUTH (C.1797 - 1883)
RACHEL CARSON (1907 - 1964)
ROSA PARKS (1913 - 2005)
BARBARA JORDAN (1936 - 1996)
MARGARET SANGER (1879 - 1966)
PATSY MINK (1927 - 2002)
CLARA BARTON (1821 - 1912)
HARRIET TUBMAN (C.1822 - 1913)
FRANCES PERKINS (1880 - 1965)
SUSAN B. ANTHONY (1820 - 1906)
ELEANOR ROOSEVELT (1884 - 1962)
ELIZABETH CADY STANTON (1815 - 1902)
Sofia finally gets a reply from President Obama, and it reads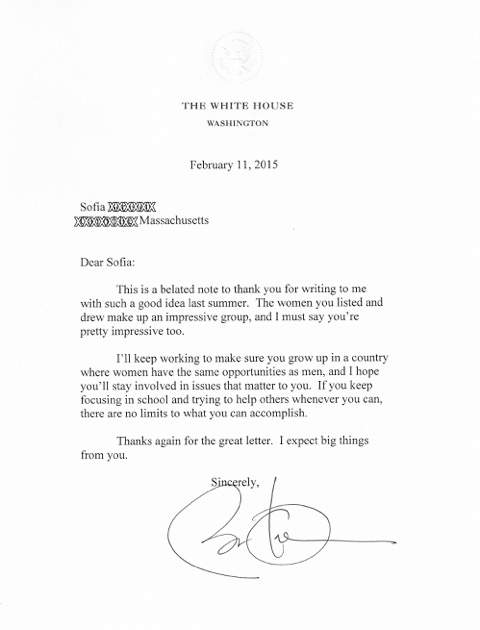 Doy News