Is China a racist country? Do they really hate blacks? These and many more questions is the question on the lips of different Africans, especially Nigerians, after a new video surfaced yesterday that shows the Chinese authority pursuing the Africans in the city of Xiaobei Road, Guangzhou, Guangdong Province, China.
In the video shown via Twitter, a note was released to landlords in Xiaobei, asking them to evacuate every Africans they have rented their apartment, and also told hotels and other places not to harbour Africans that has been pushed out, exposing these young men and women to the Corona Virus epidemic that has ravaged China in the past week. The document called for asking all Africans to leave the community, and in some universities, the Chinese authority of Guangzhou city have asked that the school ask Africans in their institution to present themselves for a mandatory Nucleic acid test.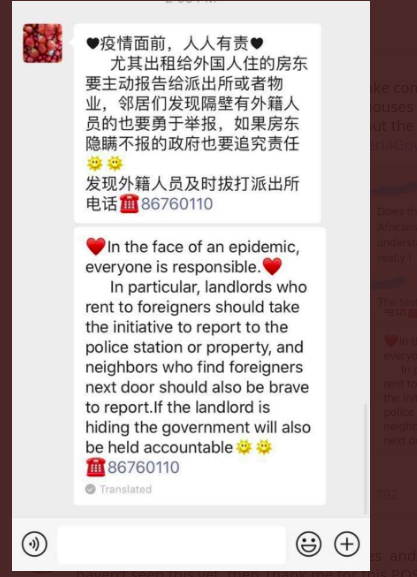 The forced testing to be done by Chinese does not exclude people with no travel history, and have only asked for African students. More especially Nigerians, this created an influx of Nigerians and other Africans with their bags moving around aimlessly on the road, and further risking the health and contracting of the virus had started in China since December.
In another video that had appeared, Mr Lawal Bapah, Minister, Public Communications, Nigerian Embassy in China, said the Chinese government had initially asked them to ask their citizens to cooperate with the Health authorities in China for testing, and also another 14-day quarantine, which they had passed same to the Nigerians in China, and the citizens of Nigeria had complied, afterwards, the city government in Guangzhou was deceitful and later asked the Africans for another 14 days quarantine, plus testing, and when they feel this wasn't right as other countries were not getting such treatment, the city witheld the passport of these Nigerians and would later asked them and other Nigerians to move out of their places of abode, hence the question to the article, Is China racist a racist country?
 In a strong confrontation by Mr Lawal Bapah, he criticized the deceitful policy of the Guangzhou government and the mistreatment of the Nigerians, and asked that the Chinese government unless under necessary circumstances have no rights to seize a passport of Nigerians, as it is the property of the Nigerian government, and not the Chinese, he claimed he had only collected this document when he arrived after the director initially denied seizing the passport. Mr Bapah claimed that the 14-days quarantine was acceptable when communicated, and also a certificate that shows negative result was also sent to Nigerians, and the new 14 days was never communicated.