Thursday, July 30, 2015 - 23:51
The recent diss between Drake and Meek is going hard after Drake went hard on Meek Mill yesterday, and the new Drake, "Back to Back" song just shut down Twitter with a lot of Meek Mill fans asking for the rapper to come out and reply Drake diss songs, but he is yet to do so, instead the rapper just tweeted,"Z"
Meek Mill tweeted that Drake has not been writing his songs, and he has been using a ghostwriter called, Quentin Miller. An allegation a lot of Drake associates have said is not true and said Meek Mill is spewing arrant nonsense. During his Twitter rant, Meek Mill also touches base with his girlfriend, Nicki Minaj ex, Safaree Samuel, calls the young man gay.
Read : Meek Mill Said No More Lap Dances From Nicki Minaj, And Drake Never Write His Songs
So Drake, who was silent after the tweet was released never said anything, until Sunday night, when Drake dropped "Charged Up". Meek Mill thought Drake was kidding, and he went on twitter to say that the song was too soft, but also shade the rapper by saying, "I can tell he wrote that 1 tho".
Now Drake came back with a heavy tune that makes even the Meek Mill fans doubt their loyalty. Drake new track, "Back to Back" is the type of song that might end an upcoming musician career, but Meek Mill has paid his due on the street, and will not be crucified, unless he is given a chance to reply the diss tracks, but at the junction, it is safe to say the score is :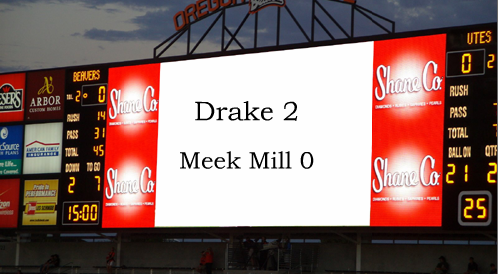 The best thing Meek Mill could do now is go "ether" on Drake, and that is the only surviving chance he might have in their hip hop world, else, Meek Mill will just be another joke to the rap scene.
These Are Some Reason Drake Might Win The Upcoming Battle
Drake Is Not A Street Dude :Meek Mill is one of the best MCs in the game, and he came up from the street. He has said it different times on records, and if you listened to all the records from Meek Mill and Cassidy diss, it was easy for Meek Mill to go hard on Cassidy because they both know what is on ths street, how the street had showed more love to one artiste than another.
But Drake has never been on those corners Meek Mill talks about, and he has never tried to be street on his record either. He just flows easily whenever he is in the booth, so on the street wise level, Meek Mill got nothing on Drake, and we all know that is one of his strongest standpoint.
Read : The 6 god, Drake, Just Went Nut On Meek Mill In A New Diss Track, 'Back to Back' Freestyle
Drake Got More Money Than Meek Mill: A simple google search will show you that Drake has got more money and cash flow than Meek Mill at the moment.Drake is worth $75 Million and Meek Mill is worth only $3 Million.
I remember when Meek Mill diss Cassidy in his track "Kendrick You Next", he said Cassidy used to have a nice backyard, with dogs living there, now Cassidy is the one living in them backyards now, and even asked him what happened. (Oouccch)
But Meek Mill won't dare say something like that in the case of Drake unless he wants to be clowning on the record, because even is boss, Rick Ross is only worth $35 Million
More Hit Records: The recent album of Meek Mill, "Dream worth More Than Money" is the album that has put him in the limelight, he had craved for, even though a lot of people have attributed his success to his new girlfriend, Nicki Minaj.
Drake is got more fame, more hit records than Meek Mill, so before Meek Mill goes into that booth, he should not talk about going platinum, moreover, Drake has got a Grammy Award and Meek Mill is yet to be nominated for Grammy's at all.
So Drake has not only been here for a long time, he got a lot to show for it as well.
Drake Heard It All : After all the points we have listed, Meek Mill might want to come with that, Drake is soft and he sings and deceives fans. The truth is that, we have come to realise that Drake sings when he raps, and a lot of people have dissed him on that. The likes of Pusha-T, Common and others..
And even Drake said it in Back to back, "You should got bodied by a singing N****
So Meek should swerve from the angle....
So what is Meek Mill going to rap about? Hopefully he won't be needing a ghostwriter from the Drake's camp. But Meek is a street hustler and we all are anticipating what he will bring to the table..