Wednesday, July 5, 2017 - 19:30
Two Nigerian celebrities, Davido and Wizkid are now in a tug of war with each other, with the two throwing subliminal words via their various social media accounts.
While both youngsters have been known to the media not to be compatible, both have seems confirmed the story that all is not well in their camps after Davido went on his instagram account and post this;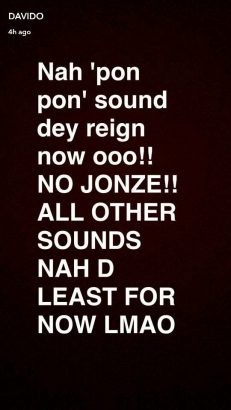 This is a diss to Wizkid who in recent times has been dishing out Caribbean tune of music, "pon da style" kind of music, and also paying off for him, as he was part of the writer in Drake's massive hit, One dance.
Wizkid who was not going to make it slide, and immediately catch the snapshot update from Davido went on to his Twitter and tweeted;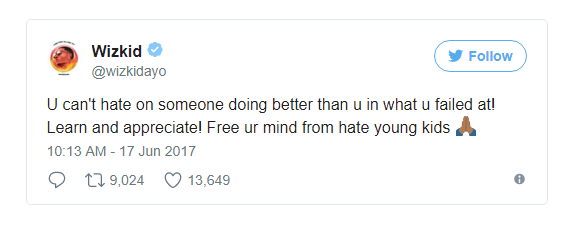 So after all the drama few weeks ago, Davido was not letting go, he decided to put their beef into records with Olamide new single, Summer body.
At the beginning of the Olamide's video, you can hear Davido screaming "pon pon" several times, and he did not stop there, during his verse on the Olamide new track, Davido verse was like this;
My name my name my name pon pon pon pon
My name is Davido yeh! Omo Atlanta eh
Kpata n jabo; omoge lo wo sokoto
Gbenusi atenu Baby, I want sock'oto
Ma lo ja'we e bebedi Alhaja
Mo fe ponke, gimme the ladder
With Yanky passport, them say we local oh
You better catch up, I go see you later
Spend my money on-top somebody oh
Summer Body let's keep it rocking ohh
The verse with Yanky passport (America passport) is  Davido telling Wizkid he is from Atlanta, and he got an American passport, which means unlike Wizkid from Ojuelegba, he is not local, and Wizkid should catch up, after Wizkid in one of his tweet had said the pon pon sound is the new thing in music, and Davido should catch up or stay local.
Less than 24hours after the music dropped, Wizkid once again went on Twitter and went for Davido's voice, which seems to sound a little odd, though with the same voice, he did great in Nigeria music, but Wizkid is not buying that, he tweeted this;

At this time, it would be unfair to call the fight and say who is winning, we might need to wait and see how well this will all turn out to be at the end of the day, but Davido is yet to reply, but we all await and hope this entertains us all, and ends well.