Saturday, May 3, 2014 - 03:10
In this blog post, i will show you how to watch TV stations from over 135 countries, listen to radio from all this countries and watch live sports just from a piece of software.  Though some people subscribed to cable or satellite TV's but am very sure non of them can see TV stations from 135 countries. But what i will be introducing to you will allow you watch different TV stations, listen to radio and watch live sports whenever your favorite sport is on TV. Call it the satellite TV software, you are welcome cheeky

This software will allow you watch TV according to a selected country or genre. You can watch anything, i mean anything on this software...

Ladies and gentlemen, i am introducing to you Readon TV Movie Radio Player.
I am sure some of us have tried searching for a software like this on the internet, but won't find it...i have been using this software for years now and i can tell you, its completely free, you don't have to pay a cent to have it, and it doesn't tell you to pay after 1 year (Hello whatsapp).

I have seen a lot of guys selling different internet TV software, and have given it different name....sorry, i just burst your operation...i am not sure the exact software they sell out to people, but am sure, it can't be as good as what am putting up now.
Download the software with the link above, install the software like your everyday software installation, if any other software is needed, you will be informed. I have seen it requesting for Dot net framework , but am guessing 70% computer have this and if you don't, there is a link on the Download page you just visited...go ahead and download it, install it and you should be good to go.\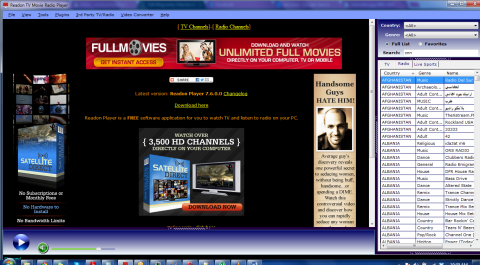 Readon Screenshot   
After installation you should see the interface like shown above (Readon screenshot). You can search by country or by genre..click on the TV station you interested to see and that's all.. To see all TV stations that are into news, select NEWS  and it will display only TV stations related to News.

To listen to radio, you need to click the Radio tab, select the country from a drop down, this will display only the radio station available to the country you have selected. To listen to a particular genre,i.e  Rap music, it will display all radio station that plays or related to rap music.

But if you know exactly what you searching for, you can use the search box, to search for TV station like CNN, BBC or FOX news.

You can watch anything, i repeat anything with this software.... Please note, unlike old desktop computer we use back then, you don't need a TV card to use this software.hahaha. The only thing needed here is your Internet.
Other features of this software includes :



Thousands of TV and radio channels from all around the world.



Watch and download latest movies (even those showing in the cinema now!)

Live sports (NBA, European soccer, etc).
 


A large variety of genres including movies, comedy, news, general TV, kids, music, pop, jazz, classic etc.
 


Record online music to MP3 audio files.
 


Record TV into various formats of video files. You are able to view recorded shows on your iPhone and Windows Mobile phone.
 


Able to work as a video converter.
 


Flash games search engine plugin(Thousands of games).
 


Music on demand search engine plugin (Millions of MP3)
 


Movie search engine plugin.
 


Includes all SopCast channels.
 


Include all ShoutCast channels.
 


Include all TVU player channels.
 


Google Youtube
 


Audio CD ripper (to MP3 and lossless wave).
 


News and weather reports.
 


Free to use.
 


Auto updatable channel lists.     
         


Auto shut down.
 


Always update the software, because newly added radio and TV channels are updated from time to time
 
To update : click Tools > Check for Updates ( wait for the software to update )
 
To show if any new TV/Radio is updated, click Tools > show newly added channels > click the drop down to check if new TV or radio are added to the program....You will be amazed at the update....:)
 

Please we will appreciate your comments/Questions Via the comment text box below.