Monday, August 31, 2015 - 12:10
Kanye West dropped a bomb on attendees at the MTV VMA award last night when he said, he will contest for the White house, come 2020. The rapper was honoured with the Michal Jackson video vanguard award at Sunday's 2015 MTV VMAs, and to the surprise of everyone presents, Taylor Swift was the artiste that gave Kanye West the award.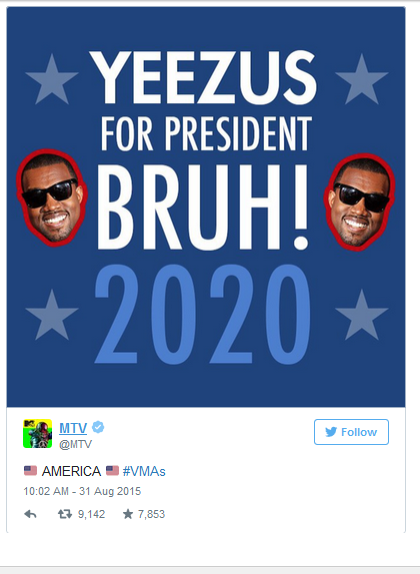 Joking about their first meeting at the encounter they had in 2009, when Kanye West disrupted Taylor Swift when getting her award, Taylor, 25, gushed about her new friend, Kanye West.
I first met Kanye at this show actually, Kanye defines what it is to be a creative force in music, fashion and well, life.
She then used the same phrase he used during their encounter, "Imma let you finish," before welcoming Kanye West on stage.
Getting up on the stage, and not saying anything for about 5 minutes, Kanye West fans keep chanting him "Yeezus".
After enjoying his awesome fame, Mr. West said ;
 Listen to the kids.Thank you Taylor for being so gracious and giving me this award this evening.
Kanye West then talks about how far he can go in defending an artists, he said, although he can be disrespectful sometimes while doing that.
 Sometimes I feel like I died for the artist to have an opinion after they were successful
Then he rants about award shows, Kanye said;
 I still don't understand awards shows," he said, saying they shouldn't get to judge creative artists. "I don't understand when the biggest album or the biggest video [doesn't win] ... I just want people to like me more, but f--- that bro
Wait, wait for it....Kanye West then dropped the biggest news of the night, he said ;
After talking about "the kids" and how those in the future won't be controlled by brands, but taught to be free, he said, "I don't know what I'm going to lose for [saying] this. But it ain't about me. It's about ideas ... And yes, as you can guess, I have decided in 2020 to run for president."
You can see the shock on his wife, Kim Kardashian face, and also shocking his new friend, Taylor Swift once again.