Monday, January 15, 2018 - 01:46
A 180-metre long tunnel have been discovered by the Israeli intelligence team, and was destroyed on Sunday morning, after the security team closed the  Kerem Shalom on Saturday night.
Israel has also denied claims that the tunnel is used to transport food to the Gaza strip, claiming that the tunnel is used by Hamas to smuggle terrorists and weapon into the Gaza strip, which can be used as a combined attack on the Kerem Shalom crossing from the Egyptian side.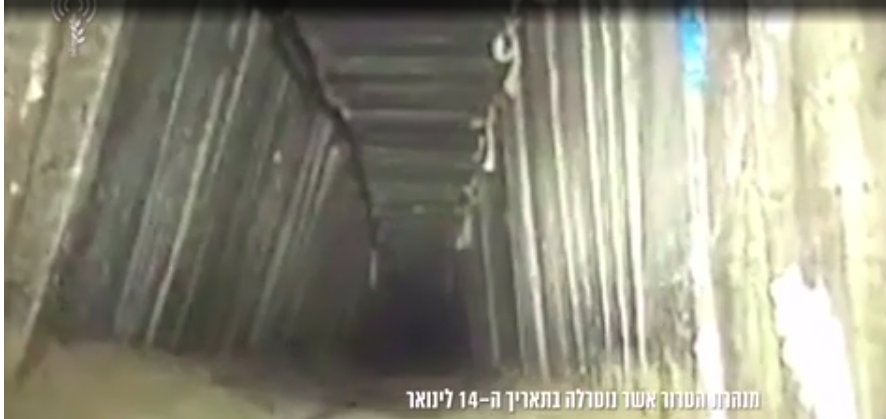 The tunnel stretched for almost a kilometre near gas pipes and continued into the Egyptian territory. The destruction of the tunnel was carried out by the Southern Command in the Kerem Shalom area.
In a statement by the IDF;
This is a blatant violation of Israeli sovereignty, endangering the citizens of Israel and sabotaging the humanitarian efforts that Israel is making for the citizens of Gaza.The terrorist organization Hamas is responsible for everything happening in and out of the Gaza Strip.
According to the defence Minister Avigdor Liberman, while commenting on the strike said;
We performed a professional and precise [military] action. The destruction of the terror tunnel network is an essential component of our systematic policy to harm Hamas's strategic capabilities. Our message to the Gazan leadership and residents of the strip is clear: invest in the sanctity of life and not in death tunnels.
The head of the Southern Command Maj.-Gen. Eyal Zamir, while visiting the site of the destroyed tunnel was briefed by the head of Eshkol Regional Council Gadi Yarkoni;
The terror tunnel that traversed the Kerem Shalom crossing harms first and foremost the residents of the Gaza Strip," Zamir said, adding that the IDF is "determined to continue the effort to thwart terror tunnels and to act in any way to defend the residents of the Gaza vicinity and the State of Israel.
The IDF Is reported to have destroyed 4 tunnels since October last year, one in December, and two in January. The IDF will also continue to investigate more of the tunnels running into Israel, and will also enclose underground barriers to block Hamas access.