Tuesday, October 11, 2016 - 16:21
The latest trending act on social media with Vietnamese Netizen involves risking their lives for Facebook likes. This is a game by Vietnamese youths challenging themselves to carry out a dangerous act if their peers can give them a particular number of likes.
The trend was started by a young man in Ho Chi Minh city, challenging people that he will go to  Tan phu bridge, set himself on fire and jump into the river, if he gets 40,000 likes on that status update post.
The post went viral on social media, and the man got 93,000 likes.
On September 20, keeping to his words, the man went to the bridge, while people all rush to see him perform his act,and did exactly as he had promised the people.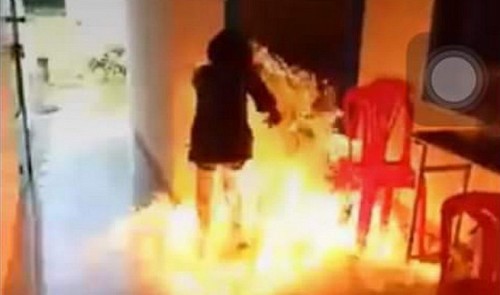 The trends now inlcudes "taking off my shirt in front of the camera" and "beating someone at school" to "running seven laps around the schoolyard naked" and "eating my own feaces," with the minimum 'like target' of 1,000.
The recent headline of this trend involves a 13-year old school girl in the south-central province of Khanh Hoa that promised to burn down her school if she get 1,000 likes. Though she was reluctant at first, but was getting threatened by people that "liked" her status. 
On September 10, she then came to Pham Ngu Lao Middle School with 0.5 litres of gasoline and burn the school medical room, also getting slight burn on her legs.
In Nigeria, the youths are using Twitter to get what they want. The game in Nigeria involves a Twitter user asking an individual for money, a company for jobs or original jersey. 
The user will ask " How many retweets to get XYZ" where XYZ is the material, and the company can reply, 500 retweets and you can get our XYZ.
At first, the Retweeting game involves boys asking girl on a date, but now, many people are using it to obtain cash, materials, and jobs.