Saturday, October 3, 2020 - 13:33
If you are have seen securedspeed.com from lowendbox or any other channel, and you are about start dealing with this web-hosting company, I will advise you to stop first and read this review then decide if you still want to follow that route.
As a user of securedspeed.com for five years, early last month, September 2020, securedspeed.com yanked off my server and website from their platform without prior warning or notice, to cap it all, all emails were ignored, and they still operate as nothing happened.
My Secured Speed Story
I had joined them in 2015 after researches on a good VPS at the time. I was able to later find them via LEB, or what most people know as Low End Box. This is a site listing VPS promotions and other affordable VPS websites. As of 2015, it was run by a man named Mark, an amazing fellow that understands not just VPS but has an amazing personality. It was a home run for me, no complaints whatsoever with Securedspeed during this phase of my usage. In 2020, just like the pandemic, it was sold off or whatever happens in between, but what I noticed was, the new ownership resets the servers, changed IPs of the websites I had running on it without notice. I notice my account was down and was told I had to change my IPs, I had only known my website was done after a message from an advertiser about the stoppage of their ads, and a refund. I apologized, and fixed it, with an incentive on their next purchase.
Securedspeed New Policy
The new policy from secured speed wants that users must pay monthly for their service, as someone that pays 6months in advance, this was stressful. I sent an email to the new owner or staff, Kevin, who was against this, as he said customers prefer monthly and not 6 months in advance, even though he claimed there will be a consideration. This was 11 months ago. So I asked four months ago if they had a thought on letting some pay each month, and others pay 3 - 6 months. This was not responded to, and before this, I noticed the messages/replies from the said Kevin are not as friendly as myself and Matt have done, hence, I asked him to close the ticket if there won't be any response to my message after 4 months. And after some hours, the ticket was closed, without response or acknowledgment. Due to the facts, I had noticed the unfriendly tone from this lad, I back up locally the web projects on this server. And was hoping I would move away to a more friendly environment when I have the time before December.
Server Shutdown/Removal
After a week of my payment and closing of the ticket. My website was down. I should make it clear here. Most times when Matt was running Securedspeed, my website is online 24/7. If there is so much as a cough, he will assist however he can. 
I wrote to Kevin my website is down if he could help, Securedspeed, unlike most hosting out there will take 24hrs to respond, In my 5 years, I have never gotten a 1hr response, I send a message, wake up the next day to read the response. That is fine as the server is not always down anyways. So I wrote a message to this Kevin fella, and there was no response, there is no chat feature or call feature, so for 2-5 days, there was no response, no acknowledgment while I keep sending reminder messages and updating the ticket. No response after the fourth day, so I paid for the new month even though I have 3 weeks on my previous month hoping it will give me the audience I deserved, there was none. 
What happened here is that Kevin had just deleted my server which contains 5 years work without a little as to how did you do, and also collecting my money as well. My gut feeling was what had saved me from the cruel act from this web hosting company and the flouting of their might on what I thought was a simple feature request. It's either my assumption or the people working on this hosting are no longer with us on earth. 
Fighting Back
I was happy I lost none of my work due to my last backup, and I was able to join a new and better-hosting company, this time with a phone, mail, ticketing, and chat service. When I moved and changed important credentials, I later decided to fight back to recover the funds I had used to pay for the services on secured speed. Since this was a Paypal transaction. I was able to write Paypal. This hosting never responded, or apologized while I was doing this. I escalated to Paypal, no response.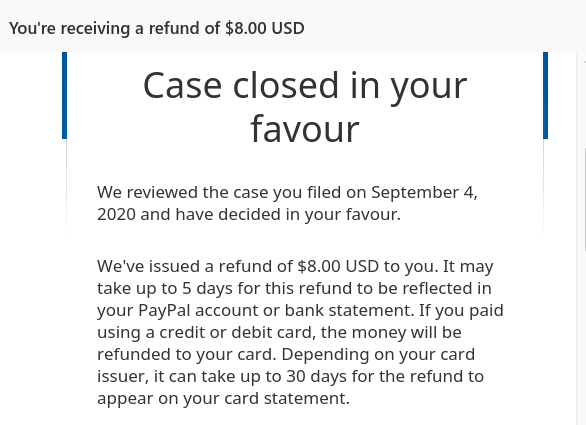 I guess Paypal might have noticed the irresponsibilities, and I was able to recover the first fund, even though I had used 2 weeks services, I was refunded fully, and the other one where I had not used any service for the month was also refunded.
Conclusion
 I was lucky to have backed up locally because I noticed the attitude by Kevin and acted quickly, else, I would be sad to lose 5 years work. You might not be that lucky. Securedspeed.com is a horrible web hosting service now, and I won't advise my cat or dog to host with them if they treat long term customers like this. It is a 1* service and you will regret using this service if you decide to go ahead. I am lucky , will you?
Have you used any other web-hosting company service with proof? Please share them with Us via the Contact Us, and out the writers will reach out to you