An 81-year-old paedophile, Jack "Dad" Sporich, who had previously been jailed for molesting a Southern California child has once again been arrested again in Cambodia, and sentenced to 10 years in Jail for having sex with a 12-year-old boy.' 
Jack "Dad" Sporich, was deported from Cambodia in 2009 and was charged in 3 counts of federal indictment in Los Angeles, as a result of the crackdown on "Sex tourists" who travelled to South East Asia to molest children.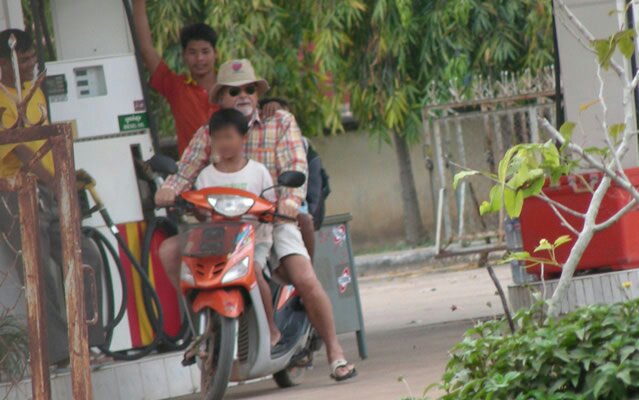 Photo courtesy: Cambodia expats online
The 81-year-old gained the trust of the children by dropping money around town, while they pick the money, and several children stayed at his home,  which has a swimming pool, water slide, video games, toys and clothing, authorities revealed.
Jack "Dad" Sporich who had adopted some children had threatened the life of a young boy who was flown to his trial to testify before the court. The victim said that after Jack was arrested, his adopted kids threatened his life if he testifies against the defendant.
Jack moved to Cambodia in 2005 after he was released from Atascadero State Hospital, a maximum security psychiatric centre for sexually violent predators.
Jack was sentenced to 18 years for molesting a 14-year-old boy in Ventura County in 1987, and was arrested by the Cambodian authorities after two boys reported that he had been molesting them. In the summer of 2009, he was expelled from Cambodia.
When given the opportunity to talk, Jack apologized and said that he currently has a grown-son in Cambodia, who was not molested or touched, he said ;
               ''Unfortunately, a lot of things happened with other children," Sporich said. "I'm truly sorry for the things I've done — and they have to live with it."