The much anticipated Tesla Model 3 electric car has now been unveiled. The vehicle is tagged the lowest cost vehicle till date, and it's scheduled to start deliveries in late 2017. The Chief executive Elon Musk said that the goal of the company is to produce 500,000 of the vehicles in year after it is fully launched into the automotive market.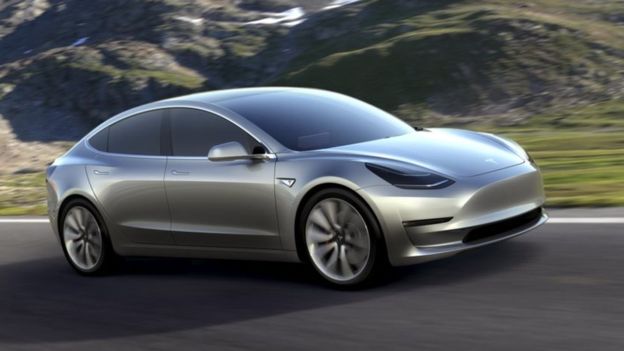 The basic model of the Tesla Model 3 electric car will start at $35,000 (£24,423), and will have a range of 215 miles (346km) per charge. The car can be ordered in advance in dozens of countries, including India, Brazil, UK, China and New Zealand.
Tesla model S Saloon overtook Nissan Leaf last year, making it the best selling pure-electric vehicle, and more than 50, 580 was delivered.
Few Details About The Tesla 3
The base model will accelerate from zero to 60mph (97km/h) in less than six seconds, other models will go faster

It will include the "autopilot" safety features found in existing models, which allow the cars to steer themselves and avoid collisions

It will support "supercharging" as standard, allowing the cars to recharge more quickly at special power stations. Tesla aims to double the number of places offering supercharging to about 7,200 worldwide by the end of 2017

It provides storage room at the front and rear of the vehicle