James Franco is the latest person in the cross hair of sexual assault after 5 women reported that he had inappropriately or  sexually coerced them.
The women were student at the actor now-closed Studio 4 acting school, which recruits actors that are looking to break in the movie industry by appearing in projects that involves nudity.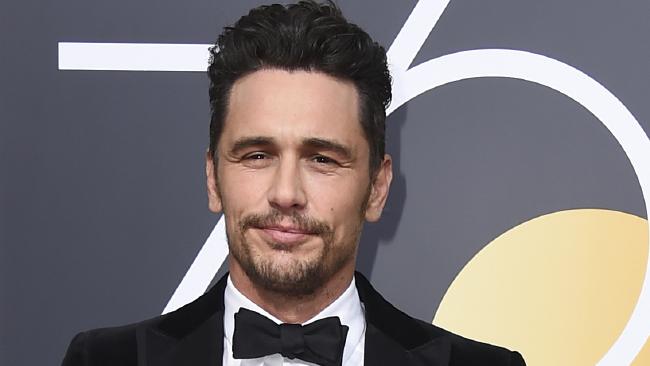 A  former Studio 4 students Natalie Chmiel and Hilary Dusome told Los Angeles times that James Franco stormed off set when none of the women agreed to go topless. Another woman, Sarah Tither-Kaplan, a former student and who had also appeared on James Franco movie said that she had signed a nudity contract, but Franco asked her to perform an unscripted nude scene, including another orgy scene, when James Franco removed the plastic guard covering her vagina and insert his figure, then went ahead to simulate oral sex. Someone on scene had confirmed the story.
On his interview with The Late Show with Stephen Colbert, James denied the allegations;
The things that I heard that were on Twitter are not accurate.But I completely support people coming out and being able to have a voice because they didn't have a voice for so long. So I don't want to shut them down in any way.
If I have done something wrong," he added, "I will fix it — I have to.
Tither-Kaplan said that James Franco had personally apologised for the behaviour.
Another accuser of James Franco is Violet Paley. They had been friends in 2016, and James would offer her professional advises on the movie she should watch, or any project she was working on, until one day, he started touching her.
In April 2016, Paley was looking to give James a birthday card when he invited her to a student movie he was shooting, and when she got there, James entered the car, and asked that the woman drive to an alley, and when they got there, she pulled out his penis, and put her hand on it, she laughed nervously and then told him that they cannot do that in public, but she could later meet up with him. She said;
I felt so pressured…and he started pushing my head towards it, And I was laughing as my head was being pushed down, and he was like, 'You're funny.' And I was like, 'I'm not being funny.
She did gave him oral sex, and had to lie to him someone was coming, so he could let her go. A friend of Paley has also confirmed the story, the friend confirmed the account she gave in 2016, with the one she is telling news outlet.
Both of them later had a consensual relationship after the event, when Franco reached out, but both of them later broke it off. 
Paley said she came forward with her story after she got inspired by the #MeToo movement.