Barely 48hrs after President Muhammadu Buhari gave the Nigeria military to end the Boko Haram saga in 3 Months, rains of fire have been dropping in the remaining Boko Haram in the Northern Eastern part of the country.
Nigeria Airforce fighter jets recently deployed to the North Eastpart of the country started the bombardment of enemy camps and bunkers today.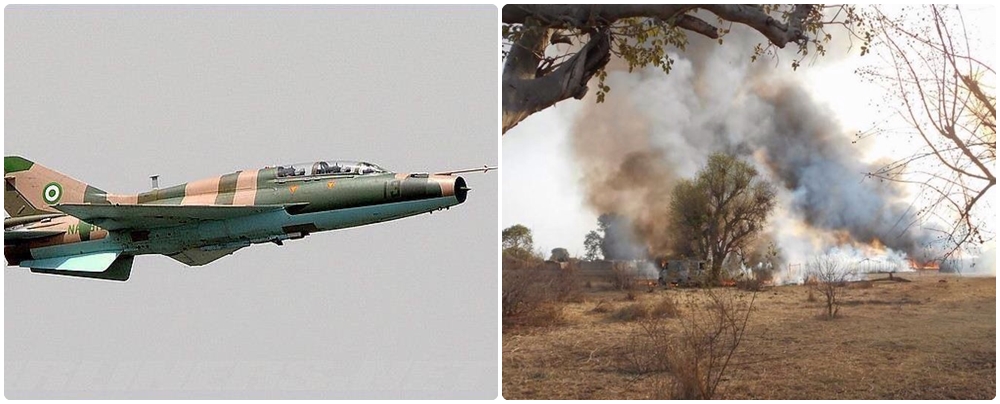 In a statement signed by the director of  Airforce Public Relations, Air Commodore dele Alonge said :
The Nigerian Military in its resolution to incapacitate and further degrade the fighting spirit of Boko Haram Terrorist Group (BHT), has carried out several bombings and air strike missions in Sambisa Forest.
The strike missions came after several weeks of tactical reconnaissance by the reconnaissance/ surveillance aircraft.
The air strikes carried out by F-7NI and Alpha Jet fighter aircraft, as well as attack helicopters have resulted in the degradation of the terrorist's capabilities and destruction of some of their strong holds.
Intelligence report revealed that as aftermath of the strike missions, the terrorists have been confined and their capabilities greatly reduced, thereby restricting their nefarious activities to small scale attacks and suicide bombings.
The Chief of Air Staff, Air Marshal Sadique Abubakar assures all Nigerians that the air efforts would be sustained until the Boko Haram Activities becomes a thing of the past.
The Nigerian Air Force with their support is 'Willing, Able and Ready' to meet up with current and future security challenges of the Nation.
The fighter jets were recently deployed last Thursday on the order of the Chief of Air Staff, to help win the war against Boko Haram.
Accoring to Alonge,
The newly deployed platforms include the F-7Ni fighter (supersonic) aircraft, Mi-24/35 attack helicopters, Augusta 109 LUH, Super Puma Combat Support helicopter and ATR-42 surveillance aircraft which hitherto had been away for scheduled maintenance.
The new deployment is aimed at boosting existing military efforts to defeat the Boko Haram Terrorists. It is also expected to enhance the capability of the Nigerian Armed Forces to fight in a more proactive and efficient manner -